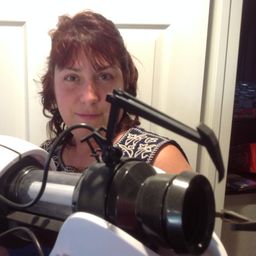 When she's not busy objectifying superheroes on the Nerdvana Podcast, she's a mom, a teacher, a superhero in her own right. She was awarded "Teacher of the Year" for the 2013/2014 school year for her innovative skills using comic book superheroes as positive examples and role models. Her students strive to find the hero in themselves. On top of that she juggles two active teen girls who are becoming geek lets of their own. In a former life she spent many hours table top gaming with a slight (putting it mildly) addition to World of Warcraft. She still manages to fit in gaming with family when she can squeeze it in.
Sessions in which Princess B participates
San Mateo Marriott - Synergy 5
11:30 - 13:00 | 1 hour 30 minutes

YA: no swearing, sex, violence, or drugs. So your hero is a young boy who's just been thrown in among a bunch of space marines; can you really writ...