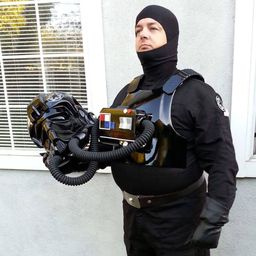 CDRE CDRE Tracy Newby, D5SL Newby
He/him | They/them
Deputy-5SL/Commanding Officer
TRMN
Tracy Newby is a longtime costumer and founding member of the 501st Legion and Golden Gate Garrison Star Wars costuming groups. A sometimes Renaissance man and dabbler in many things crafty: vacuum forming, silicon molding and resin casting, sewing, metal work and CAD drafting and design. He is a Sci-Fi dilettante with memberships in the 501st Legion, Rebel Legion, The Colonial Fleet (new Battlestar Galactica), Starfleet (Star Trek), Legion of Rassilon (Dr. Who), BASFA (Bay Area Science Fiction Association), and lover of Babylon 5, Space 1999 as well as many other esoteric shows and films. Lover of all things science related including physics, engineering, forensics, biology and medicine. Sometimes gamer who prefers RPGs to FPS. Tracy has been a participant in BayCon, SiliCon, ComiCon, LosCon and Convolution as a guest or attending professional on many occasions.
Sessions in which CDRE CDRE Tracy Newby, D5SL Newby participates
San Mateo Marriott - Collaborate 3
13:00 - 14:30 | 1 hour 30 minutes

Are made up swears and slurs acceptable in speculative fiction, or are they just a form of slipping crude language into stories without offending r...
San Mateo Marriott - Connect 4
14:30 - 16:00 | 1 hour 30 minutes

Like with any social group there are forms of behavior that can stigmatize the fan community. Here we can discuss openly acceptable/unacceptable be...