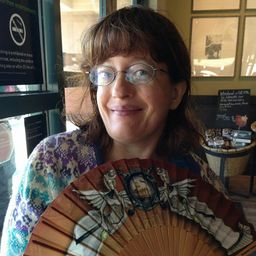 Carrie Sessarego
She/her
writer
Smart Bitches Trashy Books
Carrie Sessarego is the resident 'geek reviewer' for Smart Bitches, Trashy Books, where she wrangles science fiction, fantasy romance, comics, movies, and non-fiction. Carrie's first book, Pride, Prejudice, and Popcorn: TV and Film Adaptations of Pride and Prejudice, Wuthering Heights, and Jane Eyre, was released in 2014. She spends her time wrangling her husband, daughter, dog, and three cats.
Sessions in which Carrie Sessarego participates
San Mateo Marriott - Collaborate 3
13:00 - 14:30 | 1 hour 30 minutes

Are made up swears and slurs acceptable in speculative fiction, or are they just a form of slipping crude language into stories without offending r...
San Mateo Marriott - Connect 6
20:30 - 22:00 | 1 hour 30 minutes

Is Cody a diva? Did Carrie really punch the paparazzi? Who *is* Susie's alter ego? Join our panelists for an evening of celebrity gossip- because w...