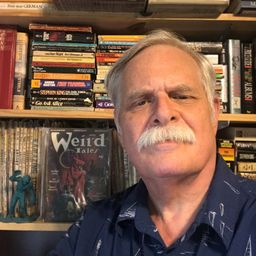 Mark Orr
Historian of Horror
HorrorAddicts.net
Mark Orr was born in Northern Alabama, but has lived most of the past sixty years in or near Nashville, Tennessee. One gap in that run was the period he spent in Knoxville, attending the University of Tennessee, where he earned a Bachelor of Arts degree in History. Mark has been married for more than forty years, has sired three daughters, and is the proud Papa to an ever-increasing number of grandchildren. He has placed several dozen short stories, essays, articles, poems and critiques in a variety of online and print publications over the past two decades, along with two hard-boiled supernatural mystery novels published by Dark Recesses Press. He is currently acting as the Historian of Horror for HorrorAddicts.net for whom he supplies a biweekly blog post on a wide variety of topics related to the history of the horror genre, and short segments for their podcasts on similar subjects.
Sessions in which Mark Orr participates
San Mateo Marriott - Synergy 1
1:00 PM - 2:30 PM | 1 hour 30 minutes

Come geek out with us horror-style! We will also be talking ...