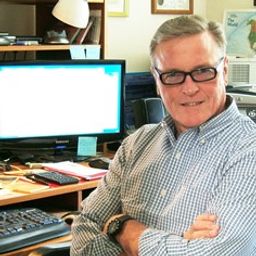 J.L. (Jim) Doty
Running dog lackey
Bourgeois Capitalist Establishment
Jim is a full-time SF&F writer, scientist (Ph.D. Electrical Engineering), laser geek, and former running-dog-lackey for the bourgeois capitalist establishment. He's been writing for over 30 years, with 10 published books. His first success came through self-publishing when his books went word-of-mouth viral, and sold enough that he was able to quit his day-job, start working for himself and write full time--his new boss is a real jerk. That led to contracts with traditional publishers like Open Road Media and Harper Collins Voyager, and his books are now a mix of traditional and self-published. His tenth novel, the third in his urban fantasy series The Dead Among Us, was released in February of 2017. Right now he's submitting his eleventh novel, The Witch of Val d'Ossa, to publishers; he's fleshing out ideas for the next book in The Dead Among Us; he's writing another episode in The Treasons Cycle; and he's just finished his twelfth novel, A Hymn for the Dying, the first in a new SF series, The Blacksword Regiment. Science is a passion, but writing is an addiction.
Sessions auxquelles J.L. (Jim) Doty participe
San Mateo Marriott - Engage
14:30 - 16:00 | 1 heure 30 minutes

Some consider 'Space Operas' a derogatory term, but there are still plenty of us who love a good, action packed battle in interstellar space. Let's...
San Mateo Marriott - Synergy 5
11:30 - 13:00 | 1 heure 30 minutes

YA: no swearing, sex, violence, or drugs. So your hero is a young boy who's just been thrown in among a bunch of space marines; can you really writ...