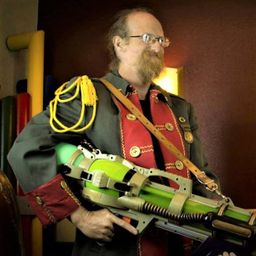 David Coronado has been playing in and running LARPs for over 20 years, and has been writing gaming worlds for his friends in various genres for over 30. As part of the Theatre Arcanos team, he helps bring some of our favorite fictional worlds to life with non-canonical characters. He is a budget costumer, a cartographer, a social activist, and the father of a homeschooled teen.
Sessions auxquelles David Coronado participe
Synergy 4

3:00 PM - 4:30 PM | 1 heure 30 minutes

Panelists across the spectrum discuss the difference between being a costumer and being a cosplayer. Which one do you want to be and how do you bri...
Synergy 1

10:00 AM - 11:30 AM | 1 heure 30 minutes

Cassandra Clare, author of the Mortal Instruments series, started building her fan base by writing serious Harry Potter fan fiction. The novel F...
Sessions auxquelles David Coronado assiste