Honorary 50 Year Members
Philip Aronson
z"l
Abner Bergman
z"l
Bruce Block
[Read
Ravblog post
.]
1969-72, Assistant Rabbi, Temple Beth-El, San Antonio, Texas
Regional Rabbinic Advisor, Texas-Oklahoma Federation of Temple Youth (TOFTY); Advisor, B'nai B'rith Hillel Counselorship for the San Antonio Colleges; National Federation of Temple Brotherhoods Jewish Chautauqua Society Lecturer at St. Mary's University; Frequent "Sermon of the Week" Columnist for the San Antonio Express-News; Author and Narrator of "Days of Awe" on KLRN, Public Television; Board Member, Family Service Association (Chair, Publicity Committee). 1972-82, Rabbi, Ventura County Jewish Council – Temple Beth Torah, Ventura, CA Mentor and on-site supervisor for Education Interns from RHSOE, HUC-JIR, LA; Camp Rabbi, Wilshire Boulevard Temple's Gindling Hilltop Camp; Member of Interfaith Clergy Council; Member of Task Force to consolidate Ventura County Human Relations Council and Ventura County Council on Community Development into one (became Commission on Human Concerns); Member of UAHC Task Force to develop Introduction to Judaism curriculum (under leadership of Lydia Kukoff and Rabbi Stephen Einstein); Appointed Auxiliary Chaplain (civilian) by the JWB to serve Port Hueneme Construction Battalion Center and Point Mugu Naval Air Station 1982-85, Rabbi Temple Sharey Tefilo-Israel, South Orange, NJ Appointed first rabbi of newly merged congregation, following retirement of Rabbi Herbert Weiner, z"l, six months into the merger. Developed program consisting of a series of parlor meetings to help integrate members of the former congregations into the new entity. Worked to improve existing adult education programs and to develop new ones. Active in local Interfaith Clergy Association. 1985-6, Interim Rabbi, Temple Sinai of Bergen County, Tenafly, NJ (part-time) 1985-1989, Lecturer, Humanities Division, Bloomfield College, Bloomfield, NJ Taught courses in English and Religion Departments: Freshman Core (English), Religion and Literature, Religion and Power, Sociology of Religion, Mythology, Religion in America. Served part-time as assistant to the Associate Dean for Academic Advising. 1985-89, Instructor, UAHC Regional Introduction to Judaism Classes 1986-89, Interim Rabbi, Temple Beth-El, Jersey City, NJ (part-time) 1989-2008, Rabbi, Temple Sinai of Bergen County, Tenafly, NJ Frequent contributor to "Dvar Torah" column in The Jewish Standard; Mentor and on-site supervisor of Rabbinic Interns from HUC-JIR/NY; Member, UJA Rabbinic Cabinet (1990-2008); Member, National Rabbinic Advisory Council, Jewish National Fund (1989-1994); North Jersey Board of Rabbis (offices held: Sec., Treas., V.P., President.); D.Min. Student, HUC-JIR/NY and Postgraduate Center for Mental Health (1994-97). D.Min. in pastoral care and counseling awarded 1997. D.Min. doctoral demonstration project, "Harvesting One's Life's Work," was published as the entire annual issue on "Aging and Judaism in Journal of Psychology and Judaism, Vol. 21, No. 4, Winter, 1997 July, 2008 – Present, Rabbi Emeritus, Temple Sinai of Bergen County, Tenafly, NJ Maintained an office for the private practice of pastoral counseling (2008-20015); Member, Pastoral Care/Chaplaincy Committee, Englewood Hospital and Medical Center (2008-2015); Teacher, Yom Kippur Study Sessions, Congregation Emanu-El of the City of New York (2009-2018)
Stephen Franklin
Stephen David Franklin grew up in Webster and Dudley, Massachusetts, and graduated cum laude from Williams College, where he majored in English and was accepted into Phi Beta Kappa.
He also studied organ at Williams. During his years at HUC in Cincinnati, he took time away from the Cincinnati campus to study at the Hebrew University in Jerusalem and write his rabbinic thesis in Talmud (B. Yevamot 44a-45b, A Section of the Sugya on Proselytizing) under the long-distance supervision of Dr. Ben Zion Wacholder back in Cincinnati. The thesis involved translations of the text, Rashi, Tosafoth, and Me'iri with analyses. His professional career began as a Navy Chaplain. He first served at the Great Lakes Naval Training Center in Illinois and then at Camp Lejeune, North Carolina with Marines; from there he was assigned to a battalion landing team with the Sixth Fleet in the Mediterranean. The next six years saw him join the synagogue rabbinate as Assistant and then Associate to Rabbi W. Gunther Plaut, z"l, at Holy Blossom Temple in Toronto. Two more years as an Associate were spent with Rabbi Bertram W. Korn, z"l, at Reform Congregation Keneseth Israel in Elkins Park, Pennsylvania. Here he had the good fortune to meet and marry Karen Jeanne Spiegel, then the Assistant Director of Education at the congregation. The couple has just celebrated their 40th Wedding Anniversary. Stephen and Karen then moved on to Riverdale Temple in the Riverdale section of the Bronx. Stephen served there as Senior Rabbi of Riverdale Temple for 24 years, and retired in 2003. From the beginning at Riverdale Temple and continuing even now after retirement, they make their home in a big English Tudor house (both Stephen and Karen's dream) with a b'shert location on Franklin Avenue in Yonkers, NY. Stephen has been awarded two honorary degrees: not only HUC's Doctor of Hebrew Letters Honoris Causa, but also the Doctor of Humane Letters Honoris Causa from Manhattan College in Riverdale. Stephen and Karen have three sons, Ross, Andrew (Drew) and Joshua (NY 2013), now Senior Rabbi of The Jewish Center of the Hamptons, in East Hampton, NY. At present there are three grandchildren, Jacob, Will, and Lilah.
Irwin Goldenberg
Upon graduating from HUC-JIR in New York in 1969, my wife of one year, Joyce Meschmar and I moved to Dallas, Texas where I became the Assistant Rabbi at Temple EmanuEl. Rabbis Levi Olan and Gerald Klein were my seniors.
Rabbis Levi Olan and Gerald Klein were my seniors. I learned a great deal from both and consider Olan to be my philosophical mentor and Gerry my pastoral mentor. Since I had not grown up in the Reform Movement, this posting was very helpful in introducing me to Reform institutions. Among my accomplishments was raising the visibility and involvement of the youth group by creating the first Youth Group Shabbat where the group officiated in the main sanctuary. I also encouraged the institution of Bat Mitzvah. I was also noted for anti-Viet Nam war and Child Abuse Committee activities. In 1973, we moved to York, PA where I served as Rabbi of Temple Beth Israel for 35 years. Our two daughters, Rabbi Rachel and Dahlia were born and two grandchildren, Amina and Ziv were born. Many changes occurred under my leadership. My first request was that we hire a secretary as the Emeritus Rabbi Eli Cooper's wife had served in this role. I completely revised the liturgical music for our quartet and eventually we engaged Cantorial Soloists to replace the quartet. I was deeply involved in the Religious School, with the help of numerous lay principles. I taught sections of the 8th and 9th grades and Confirmation Class and for the first 18 years, I was the only Hebrew teacher. Fortunately, a layperson, competent in Hebrew education took over and trained numerous teachers. One of the innovations I oversaw was the institution of a yearly Visiting Scholar program, inviting mostly HUC professors to present. I taught many different Adult education classes and brought many Jews of Choice into our fold. In my years, the Temple grew from 190 families to 265 families, partly due to many people switching from a declining Conservative congregation. This synagogue eventually housed itself in our building. Our JCC also built a substantial building next door to us, so the entire Jewish Community is now located in the same area. My community activities included board membership on all Jewish community institutions, including helping to initiate York Jewish Family Services and active in the PA Jewish Coalition. I was a Board member of Planned Parenthood of Central Pennsylvania, its President for 3 years, and on the PA board and action committees. I was board member of Family Services of York, Teen Pregnancy Coalition, and several York County community evaluation committees. I was deeply involved in interfaith activities, teaching at many schools and churches and helping to engage the religious community in responding to hate-crime activity. I taught Jewish Studies at York College of PA and Gettysburg College. I received the Liberty Bell Award from the York County Bar Assoc. and an honorary Doctorate degree from York College of PA. I was a regular attendee at PA Rabbinic Kallahs, the CCAR and UAHC/URJ Biennials. In my retirement in Forest Hills, NY I am involved in the Reform Temple of Forest Hills particularly on the Social Action Committee, helping to settle an immigrant family from Guatemala, and occasionally officiating at Shabbat Evening services. I am also involved in my daughter, Rabbi Rachel Goldenberg's, startup congregation in Western Queens. I teach a regular class at our local Central Queens Y and work with several interfaith groups including Concerned Clergy for Choice. Joyfully! A new grandchild, Samuel, came to our world last year!
Edward Goldman
Edward Goldman is the Bettan Chair Emeritus in Midrash and Homiletics, HUC-JIR Cincinnati.
He was educated at Harvard College (A.B., cum laude) and the Hebrew University in Jerusalem. Dr. Goldman received Rabbinic Ordination at HUC in 1969, where he also received his Ph.D. in 1974. Rabbi Goldman joined the Faculty in 1972. He has served on the Faculty Senate, as Chairman of the Committee on Academic Affairs, Chairman of the Faculty Centennial Academy Lectures, and Editor of the Faculty Bulletin. He was Assistant Dean of the Rabbinic School from 1981-1985, and Faculty Advisor to Rabbinic Students from 1990-1992. In 1997, he became Associate Editor, and in 1998, Editor, of the Hebrew Union College Annual, a position he held until 2013. Active in the Cincinnati Jewish Community, Rabbi Goldman served two three-year terms on the Jewish Federation Board. He also served on the Jewish Federation Allocations Committee, Education Division, and chaired the subcommittee on National and Overseas Allocations. Dr. Goldman has written and/or edited several books and many articles and reviews. He lectures widely on topics of Jewish and general interest. A great source of pride is the generations of rabbis and former graduate students whom he has taught.
Lawrence Goldmark
Lawrence Goldmark served as the Spiritual Leader of Temple Beth Ohr of La Mirada from July 1979 until his retirement on June 1, 2008, when he assumed the title of "Rabbi Emeritus."
He came to this position after serving as rabbi at Wilshire Blvd. Temple for 8 years and previous to that as Jewish Chaplain at Fort Benning, Georgia for 2 years. Rabbi Goldmark was ordained at the Hebrew Union College—Jewish Institute of Religion in Cincinnati in 1969. Previous to that, he received a B.A. in Psychology at UCLA in 1964. In May 1994, Rabbi Goldmark was awarded a Doctor of Divinity degree from the Hebrew Union College in honor of his service to the Jewish Community for 25 years. Currently, Rabbi Goldmark is the Executive Vice President of the Pacific Association of Reform Rabbis, an organization of 300 Reform Rabbis from throughout the Western United States. From 1999-2000 Rabbi Goldmark was the Acting Director of the Board of Rabbis of Southern California, an organization of over 250 rabbis representing all the branches of Judaism. He served as President of that body from 1997-1999. From 1993-1995 he was an officer of the Central Conference of Reform Rabbis, serving as the organization's Recording Secretary. In August, 2009, Rabbi Goldmark was chosen to represent the Central Conference of American Rabbis (CCAR) and the Pacific Association of Reform Rabbis (PARR) at the Los Angeles Campus of the Hebrew Union College- Jewish Institute of Religion (HUC-JIR). In May 2011, he was chosen to be a member of the Board of Overseers of HUC-JIR, Los Angeles. He is married to the former Carol Kredenser and they are the parents of two grown sons, Joshua and Daniel.
Robert Goodman
Joseph Hirsch
On the golden anniversary of my ordination, I am very pleased to be honored by the CCAR, an organization I value for its effective performance of the goals it sets for itself.
My major areas of scholarly interest have been history—especially Jewish history—and general Judaica. After completing my studies at Yeshiva University High School and Yeshiva College, I attended rabbinical school at the Jewish Theological Seminary, from which I was ordained. I then earned my doctorate in Jewish History from the Bernard Revel Graduate School at Yeshiva University. I served Conservative congregations as a rabbi. My position was as Assistant Rabbi at Adath Israel in Cincinnati. While there, I made my acquaintance with Hebrew Union College, its American Jewish Archives, the Klau Library, and the outstanding faculty. I became a close personal friend of Dr. Jacob Marcus and Dr. Stanley Chyet. I took courses with Dr. Marcus, as well as Dr. Michael Meyer. When I moved to Southern California, I continued learning at the College in Los Angeles, participating in a number of post-doctoral seminars with Professor Samson Levey. Because of my studies at HUC, as well as my friendship with a number of CCAR colleagues, I decided to apply for membership in the Conference. I have greatly valued my membership over the years. While I was interested in learning, I was also committed to spreading the knowledge of Judaism. I was a congregational rabbi for several decades, with pulpits in Southern California, the Cleveland area, and most recently in the Palm Coast/Jacksonville, Florida region. As I often served as the Educational Director of my synagogues, I prided myself on the programs I established, even winning a curriculum award. The services I led were both traditional and au courant. I was always careful to write down the last sentence of my sermons...so I would know exactly where I was headed! As I recall the years of my Rabbinate, I especially rejoice over the two autistic children I prepared for Bar-and Bar Mitzvah. The latter was such a remarkable event that it was made into an ABC Children's Movie.
Lawrence A. Hoffman
I had always intended to be a congregational rabbi, but ended up (to my surprise) on the HUC faculty: first in Cincinnati (1972/73), and then in New York (1973/74) where I have remained ever since.
I still consider myself a "congregational rabbi," however, with my many students, now ordained, as my congregation. I am proudest of whatever impact I have had on them, and through them, on their work in the world. My "second" education came from attending the North American Academy of Liturgy – except for me, back then (1975 or so), a Roman Catholic (and, partly, Protestant) organization dedicated to renewing Christian worship following Vatican II. Over time, my Christian colleagues and I studied ritual, the human sciences, and the arts, insofar as these impact worship; and I decided on the lifetime project of reconceiving our liturgy not just as a set of texts, but as the Jewish People's script for the drama we call worship. As my students became rabbis and cantors, we brought about what I dare think of as a worship revolution. Central to that revolution, was the admission of cantors as clergy partners, a development that I began when I directed the (now Debbie Friedman) School of Sacred Music from 1983 to 1987. By 1995, my interests expanded to my original love, synagogues, and, together with Ron Wolfson (a Conservative educator), I founded Synagogue 2000 (later 3000), pioneering what I described as "the transformation of synagogues into spiritual and moral centers for the 21st century." That meant studying a new field altogether: organizational development and leadership; then combining them with what I was learning about American religion and spirituality; and teaching experimental courses in what I called "Synagogue Studies." I had already been traveling to congregations all over North America (and beyond) lecturing on liturgy and worship – and then, spirituality, Jewish identity, and how to rethink Judaism altogether in our time. By 2005, I began also to consult with individual synagogues, specializing in my own system of thinking derived from Synagogue 2/3000 and my evolving sense of synagogue spirituality. I have had the good fortune to teach or give lectures at several universities, most significantly (for my own development) at the University of Notre Dame; with two Christian colleagues, I devised and taught a continuing education course for US Navy chaplains; I enjoyed being the rabbinic consultant for a couple of Broadway plays, including the recent revival of Fiddler on the Roof; I have edited or written 45 books so far, and still hope to write a few more. Through 30 years of teaching Wexner adult classes across the continent, I have learned much about Jewish communality, Federations, and the concerns of the leading laypeople of our time. Two particular such laypeople have supported much of my work – I would not be the same person without them: Barbara Friedman endowed a chair in Liturgy Worship and Ritual in my honor, and is now doing me the further honor of naming it the Lawrence A. Hoffman Chair. Through the generosity of Bonnie Tisch, I have been able to direct a co-curricular program that trains a cadre of students (as Tisch Fellows) to integrate the best of modern thought into creative constructions of the world they serve and the congregations through which they serve it. I now continue my synagogue lecturing and consulting, as well as the Tisch Fellowship, but I have chosen to retire from HUC, because it has occurred to me that God may not be finished with me yet: I hope still to locate and undertake those projects that I feel uniquely called upon to do. I describe myself as entering a post-graduate program entitled Deuteronomy, with the opportunity, like Moses, to take stock of my life. and to do what I can, before I die, to make the very best of this life that God has given me.
David Horowitz
[Read
Ravblog post
.]
David M. Horowitz is the rabbi emeritus of Temple Israel in Akron, Ohio.
Prior to his election as rabbi of Temple Israel in 1983, Rabbi Horowitz served congregations in Indianapolis and Hammond, Indiana. In 2001 thru 2002 Rabbi Horowitz served as the rabbi of Temple Shalom, Gold Coast, Queensland, Australia. Rabbi Horowitz received his bachelor degree from Tulane University and was ordained at the Hebrew Union College-Jewish Institute of Religion in 1968. In the past he has taught philosophy and theology at Calumet College, Hammond, Indiana, and courses in the Ethnic Studies department of Kent State University, Kent, Ohio. Rabbi Horowitz served as the national president of PFLAG, the family voice of the LGBTQ community. He was also a past president of PFLAG Akron, Ohio. Rabbi Horowitz has served, among others, as a member of Jewish Community Board of Akron, of the Community Relations Council (Chair), the National Committee on HIV/AIDS for the Union for Reform Congregations, the Central Conference of American Rabbis (member of the Community Relations Committee), the Institutional Review Board of Children's Hospital Medical Center of Akron, the Akron Area Interfaith Council (both as treasurer and president), and the Blossom Board of Overseers. In 2000, Rabbi Horowitz was appointed to the Mayor's select committee on Finance Reform, and was on the televised panel at President Clinton's first Town Meeting on Race Relations. He was a member of the Summit County Executive's "blue ribbon panel" to do a complete performance audit of Children's Services Board of Summit County, Ohio, and is a volunteer at Akron General Medical Center. Rabbi Horowitz was the topic of a chapter entitled "Every Day the Rabbi Helps Gays," in Dan Woog's Friends and Family/True Stories of Gay America's Straight Allies, and authored the chapter, "David" in A Family and Friends Guide to Sexual Orientation, edited by Bob Powers and Alan Ellis, and has contributed an article entitled, "Praise God all the Earth," in Alive Now magazine. Rabbi Horowitz is married to Toby (1963) and has two children, Wendy Horowitz (married to Julian Bowers), Daniel, and three grandchildren, Alexandria, Talia Grace, and Rylee Summer. He lectures widely on issues dealing with gay, lesbian, bisexual, and transgender concerns, the challenge of the radical right, as well as a variety of Judaic subjects, to academic institutions, religious institutions, and corporations throughout the United States and in foreign lands. He is frequently a presenter at the Academy for Spiritual Formation sponsored by the Upper Room.
Lawrence Jackofsky
z"l
Stuart Kelman
Bernard King
z"l
Peter Knobel
Peter Knobel is rabbi emeritus at Beth Emet The Free Synagogue in Evanston, Illinois where he has served since 1980, following 11 years at Temple Emanu-El in Groton, Connecticut.
He served as the Interim Senior Rabbi of Temple Sholom of Chicago and Temple Judea in Coral Gables. He also served as Interim Rabbi at North West Surrey Synagogue in Weybridge, England and Beth Shalom in Auckland, New Zealand. He received a BHL, MAHL and rabbinic ordination from the Hebrew Union College and his Ph.D. from Yale University. He has served on the board of many local and national institutions including Association of Reform Zionists of America, Union for Reform Judaism, American Jewish Committee, Jewish United Fund of Metropolitan Chicago, and the Council for the Parliament of the World's Religions. He is a Past President of the Chicago Board of Rabbis and the Chicago Association of Reform Rabbis and the Central Conference of American Rabbis. He co-chaired the CCAR Project, Lay Involvement in the Development of Liturgy, sponsored by the Lilly Endowment and the Nathan Cummings Foundation and he chaired the Central Conference of American Rabbis' Ad Hoc Siddur Editorial Committee which produced Mishkan T'filah, the Reform Movement's new prayer book. He currently chairs the Central Conference of American Rabbi's Taskforce on the Relationship between Predecessors and Successors, Rabbi Knobel is a member of the Spertus Institute of Jewish Studies faculty and has taught courses at HUC-JIR, Yale University, University of New Haven and the University of Connecticut. He has published papers and articles on such subjects as Assisted Suicide, Cloning, Reform Zionism, Reform Judaism, Dietary Laws, Spirituality, Rites of Passages, Judaism, and Homosexuality and Same-Sex Marriage. He also served as a member of National Interreligious Leadership Initiative on Peace in the Middle East and is Past Chair of the Institute for Reform Zionism. He is the editor of Mishkan Moeid: A Guide to the Jewish Seasons and Navigating the Journey: The Essential Guide to the Jewish Lifecycle recently published by the CCAR Press. He is married for 53 years to the former Elaine Goodman they have two sons and six grandchildren
Lawrence Kushner
[Read
Ravblog post
.]
Ordained, HUC-JIR, Cincinnati, OH 1969
Rabbinic-Fellow-in-Residence, Congregation Solel, Highland Park, IL, 1969-1971 Rabbinic Chairman, UAHC's Commission on Religious Living Commentator, National Public Radio's All Things Considered Rabbi, Congregation Beth El, Sudbury, MA, 1971-2000 Adjunct faculty, Hebrew Union College-Jewish Institute of Religion, NY and LA Scholar-in-Residence, Congregation Emanu-El, San Francisco, CA
Albert Lewis
David Lieb
z"l
Michael Manson
z"l
Michael Menitoff
I. David Oler
[Read
Ravblog post
.]
Stanley Ringler
One thing I've learned, there's no such thing as an unpolitical man, especially a Jew.
This statement was my take away, while still a teenager, from my reading of Bernard Malamud's "The Fixer". Growing up in the south in the early years of the civil rights movement made me aware of just how political I was; or better yet, just how political I needed to be in order to be an authentic representative of our people's experience and ethical tradition. I felt challenged to act out my convictions in the public arena. The call to work for social justice and peace was empowering. I became actively involved as a Jewish student activist. With time, my activism and involvement in civil and Jewish communal struggles morphed into my lifelong journey in a variety of rabbinic roles in both the United States and Israel. I learned early on that congregations were places in which the politics of synagogue life were just as challenging as the politics of the public square. The difference was one of scope. Thus, when I was able to define my rabbinic goals and aspirations I was able to clarify my road forward. I became a rabbi because I wanted to be in a position to express my Jewish social conscience by applying the values and principles in a broad arena. I wanted to make a contribution to the Jewish future both nationally and globally. When I completed my undergraduate studies in the HUC /University of Cincinnati Joint Program, I enrolled in a Year in Israel program. I arrived in Jerusalem just following the dedication of the first HUC building. And while there was no organized study program on campus in 1963-64 there were a number of activities including an informal seminar for HUC students studying at other institutions. That year was for me a defining Zionist experience. I was able to deepen my identification with the Labor Zionist movement with live encounters with many of the people and places I had learned about. And I was able to integrate the principles of the movement in my progressive Jewish identity.
Daniel Roberts
[Read
Ravblog post
.]
Daniel A. Roberts, DD, DMin, FT, USN, is rabbi emeritus of Temple Emanu El in Cleveland, Ohio, where he served for 35 years.
Rabbi Roberts received his ordination from Hebrew Union College in Cincinnati (1969) and his DMin from Pittsburgh Theological Seminary where his thesis was on comforting the mourner. He earned a Fellow in Thanatology Certification awarded by the Association for Death Education and Counseling (ADEC) and is its immediate past treasurer. In retirement, he was elected rabbi of a monthly congregation in Sharon, Pennsylvania, serving 10 years until he was able to help them successfully merge with a nearby congregation. In 2014 he served as the interim rabbi of Temple Adath Israel in Lexington, Kentucky. Throughout his career Rabbi Roberts has been intrigued with the field of Thanatology (the study of death, dying and bereavement). He has lectured frequently at the King's College International Conference on Death and Bereavement in London, Ontario, and has been a keynote presenter there, as well as at the ADEC's National Convention. Rabbi Roberts has contributed to numerous books, (all published by Baywood Press) Personal Care in an Impersonal World: A Multidimensional Look at Bereavement (ed. John D. Morgan, 1993); What Shall We Do? Preparing the School Community to Cope with Crises (ed. Robert Stevenson, 2000); Ethical Issues in the Care of the Dying and Bereaved (ed. John D. Morgan, 1996); and Living, Loving, and Loss: The Interplay of Intimacy, Sexuality and Grief (eds. Brad DeFord and Richard Gilbert, 2013). Rabbi Roberts is the author of Clergy Retirement (Wipf and Stock Publishing) and a co-editor with Dr. Melinda Moore of the recently published book: The Suicide Funeral (or Memorial Service): Honoring their Memory, Comforting their Survivors. (Wipf & Stock Publishing) He has also produced a video on teenage suicide prevention, "Inside, I Ache," which has been used in schools throughout the country. Rabbi Roberts will be honored for his 50th year in the rabbinate at Temple Emanu El in Orange Village on the weekend of April 12-13, 2019.
George Rosenthal
z"l
Peter Rubinstein
Peter J. Rubinstein is Director of Jewish Community and the Bronfman Center for Jewish Life at the 92nd Street Y since 2014. 
In this capacity, he oversees Jewish content and programming within the Bronfman Center, collaborates with staff throughout the institution on innovative programs related to Jewish themes, and forges new collaborations with faith leaders both within and beyond the Jewish community. He is also the Rabbi Emeritus of Central Synagogue where he served as the Senior Rabbi for 23 years. Prior to his position at Central Synagogue, Rabbi Rubinstein served as the Rabbi of Woodlands Community Temple in White Plains, New York and Peninsula Temple Beth El in San Mateo, California. He is the immediate past Chair of the Partnership of Faith in New York City, which includes the senior clergy of the city's major congregations and was co-president of the US Board of the Tony Blair Faith Foundation. He is the Chairman Emeritus of the Board of Auburn Theological Seminary in New York City and is on the Board of the New York Region of the American Jewish Committee and Co-Chair of its Rabbinic Round Table. He is presently the director of the Be Wise Fellowship in Jewish Entrepreneurialism at the HUC-JIR in New York City. He was the long-time rabbinic Chair of the NCRCR. Peter J. Rubinstein is Director of Jewish Community and the Bronfman Center for Jewish Life at the 92nd Street Y since 2014.  In this capacity, he oversees Jewish content and programming within the Bronfman Center, collaborates with staff throughout the institution on innovative programs related to Jewish themes, and forges new collaborations with faith leaders both within and beyond the Jewish community. He is also the Rabbi Emeritus of Central Synagogue where he served as the Senior Rabbi for 23 years. Prior to his position at Central Synagogue, Rabbi Rubinstein served as the Rabbi of Woodlands Community Temple in White Plains, New York and Peninsula Temple Beth El in San Mateo, California. He is the immediate past Chair of the Partnership of Faith in New York City, which includes the senior clergy of the city's major congregations and was co-president of the US Board of the Tony Blair Faith Foundation. He is the Chairman Emeritus of the Board of Auburn Theological Seminary in New York City and is on the Board of the New York Region of the American Jewish Committee and Co-Chair of its Rabbinic Round Table. He is presently the director of the Be Wise Fellowship in Jewish Entrepreneurialism at the HUC-JIR in New York City. Rabbi Rubinstein is a founder of the Rabbinic Council of the World Union for Progressive Judaism and was long time Rabbinic Chair of the NCRCR. He was ranked number three in Newsweek's 2012 list of "America's 50 Most Influential Rabbis" and was named one of the 28 "2014 America's Most Inspiring Rabbis" by The Jewish Daily Forward. Rabbi Rubinstein graduated from Amherst College and was awarded an honorary Doctor of Humane Letters degree by Amherst College in 2017. His essay "A Search for Truth: A Touchstone of our Judgement" is included in JFK The Last Speech (2018). He co-authored "Innovation in All Generation" which appeared in the Winter 2017 edition of the The Reform Jewish Quarterly.
Stanley Howard Schwartz
Stanley Skolnik
Charles Sherman
A native of Pittsburgh, Pennsylvania, Charles Sherman graduated in 1963 from the University of Pittsburgh, B.A., Honors Major in Philosophy.
He earned a Bachelor of Hebrew Letters and a Master of Arts in Hebrew Letters at the Hebrew Union College Jewish Institute of Religion in Cincinnati, Ohio where he was ordained in June, 1969. The seminary awarded him an honorary Doctor of Divinity degree in 1994. Rabbi Sherman began his career at Temple Beth Israel in West Hartford, Connecticut, serving from July 1969 through June 1976 as Assistant Rabbi then Associate Rabbi and Director of Religious Education. During his years in Tulsa, the Rabbi has written a monthly column for the Tulsa Jewish Review and has had sermons, reviews and articles published in Living Words: Best High Holiday Sermons of 5759; Brotherhood Magazine; The American Rabbi; The Christian Ministry; The Jewish Spectator; TorahFax; Tulsa World; etc. The Rabbi has served as an Adjunct Instructor at the Phillips Theological Seminary and taught in the Department of Philosophy and Religion at the University of Tulsa. During his years in Tulsa, Rabbi Sherman has served as President of: Southwest Association of Reform Rabbis; Tulsa Ministerial Alliance and Tulsa Police and Fire Chaplaincy Corps. He is the only person to have served as president of both the National Conference for Community and Justice, Tulsa Region (now OCCJ) and Tulsa Metropolitan Ministry (TMM). In addition, the Rabbi has served on the Institution Review Board of Hillcrest Medical Center, the Board of Directors of Leadership Tulsa, The Community Service Council, Planned Parenthood of Eastern Oklahoma and Arkansas (PPAEO) Council of Advocates, the Policy Council of the Oklahoma Religious Coalition for Reproductive Choice, etc. He currently chairs the Board of the Knippa Interfaith/Ecumenical Lecture Series, and serves on the Clinical Pastoral Education Professional Advisory Group of Hillcrest Medical Center. In 1992, the Rabbi received the Community Interfaith Understanding Award and in 2001 was one of three honorees at the annual NCCJ Awards Dinner. In 2002 he received the Ron McDaniel Recognition, honoring an individual who embodies the spirit and furthers the mission of TMM and the Judy Halpern Religious Freedom Award of the Oklahoma Religious Coalition for Reproductive Choice. In 2004 he received PFLAG's national Swan Award. In 2005 the Rabbi was inducted into the Tulsa Historical Society Hall of Fame. In 2010 he received the Russell Bennett Spiritual Inclusion Award from Oklahomans for Equality. In 2012 he was presented The Russell Bennett Faith and Courage Award presented by The Tulsa Interfaith Alliance. In June, 2013 Phillips Theological Seminary presented him an honorary Doctor of Divinity degree. He is also listed in Who's Who In Religion. Upon retirement, Rabbi Sherman trained as a mediator. He began first in Small Claims Courts in Tulsa and Creek Counties, then took additional training to become a Family and Divorce Mediator. He also mediates Neighborhood, Real Estate, and Consumer/Merchant cases. He received the State Volunteer Mediator of the Year 2015 award "in recognition of outstanding volunteer service to Early Settlement." Nancy Sherman, the Rabbi's helpmate and partner for the past 53 years, served as an Adjunct Instructor in Cultural Geography at Tulsa Community College. The Shermans have three adult children and four grandchildren.
H. D. Uriel Smith
I am religiously the black sheep of my family. My father served as General Secretary of WUPJ...
... for Lily Montague before the office was transferred to New York. My middle brother just retired as the President of the European branch of WUPJ. My youngest brother is the rabbi of the Edgware Reform Synagogue, the largest synagogue in London. Yet I joined the Masorti movement. I am a member of the RA, the CCAR, and, after serving as chaplain in the Federal Prisons, a member of Naama, the NAJC. I served congregations in Springfield Missouri, Shreveport Louisiana, Lexington Kentucky, and Amberly Pennsylvania. I worked for 20 years in the Kentucky environmental protection agency, taught Biblical Hebrew at the University of Kentucky, and now, based on a sociocultural theory that I developed correlating the Humanities with Natural Sciences, am writing a paper on the relation of the biblical judges and kings to the Holy Ark.
My wife, Hanna, and I have been married for 55 years, and have somehow survived all these changes.
Arthur Starr
After two years as a chaplain at Fort Bliss, Texas, I assumed the pulpit of Temple Adath Yeshurun in Manchester, New Hampshire where, after 31 years, I was named Rabbi Emeritus.
While in Manchester I spent many summers working at Eisner Camp and leading NFTY trips to Israel. I then spent a little more than six years as the rabbi of The Hebrew Congregation of Saint Thomas, US Virgin Islands. After retiring the second time, Linda and started a local chapter of Make-A-Wish. Much of my career centered around building bridges in the interfaith community and leading Interfaith trips to Israel and missions to aid the Jewish Community of Cuba.
Since then I have spent much of the last ten years as the rabbi on cruise ships, most notably Grand Voyages on Holland America, including two around-the-world cruises.
Linda and I celebrated our 53 anniversary last summer and our three daughters have wonderful husbands and have given us six terrific grandchildren.
We live in West Palm Beach and spend our summers in The Berkshires of Massachusetts.
Roy Tanenbaum
Bruce Warshal
Frederick Wenger
[Read
Ravblog post
.]
Frederick Wenger became Rabbi Emeritus of Congregation Kol Ami, Salt Lake City Utah in 2003 after serving as its Rabbi since 1987.
From 2004 through 2007, he served as Interim Rabbi of Congregation Beth Sholom, Anchorage, Alaska. Rabbi Wenger grew up in Rock Island, Illinois and received his A.B. degree in Political Science at the University of Chicago. In 1969, he was ordained a Reform Rabbi at the Hebrew Union College-Jewish Institute of Religion, Cincinnati, Ohio. He began his rabbinate as an Army Chaplain in South Carolina and Vietnam. Upon completing his Chaplaincy, he became Assistant Rabbi at Congregation Emanu-El B'Ne Jeshrun in Milwaukee, Wisconsin. There he met and married Rochelle Silverstein, a Milwaukee native. They have two adult children and six grandchildren. After leaving Milwaukee, the Wengers spent a year of further studies in Jerusalem. Since then, Rabbi Wenger served progressively more responsible Rabbinic posts as the first Rabbi at B'nai Sholom Congregation, Huntington, West Virginia, a merged Reform-Conservative synagogue; Temple Beth El, Overland Park, Kansas; and Temple Beth Israel, Skokie, Illinois. Rabbi Wenger served as Vice-Chairman of the Huntington Human Relations Commission and taught religious studies at Marshall University in West Virginia. In Skokie, he was Secretary of the Northwest Suburban Synagogue Council and participated in the Black-Jewish Relations Task Force of the Chicago Board of Rabbis. In Salt Lake City Utah, Rabbi Wenger served on the Boards of the United Jewish Federation of Utah, Jewish Family Services, and the Jewish Community Center. He was a member of the Martin Luther King Human Rights Commission, the Religious Freedoms Committee of the Utah State Legislature, and many other civic organizations. He was the first Rabbi to speak from the pulpit of the Mormon Tabernacle at the annual community Thanksgiving Service hosted by the NCCJ in 1994. On Sabbatical, Rochelle and he studied at Ulpian Akiva, Netanya, Israel. Since retirement, he continued Hebrew studies at Haifa University and the University of Chicago. The Wengers volunteered in Israel at Hadassah Neurim and Nahalal Youth Villages. He also taught courses in World Religions, Bible, Zionism, and Basic Judaism at Westminster College and Brigham Young University. He enjoys teaching and participating actively in the life of Congregation Kol Ami and the I.J. and Jeanne Wagner Jewish Community Center. Rabbi Wenger re-assumed rabbinic responsibities twice during the periods between his last two successors. He now belongs to two Havurot in Salt Lake City and serves as an officer in the Utah Democratic Party. An aspiring audiophile, he enjoys classical music and in Salt Lake City, the place the Wengers have made their home.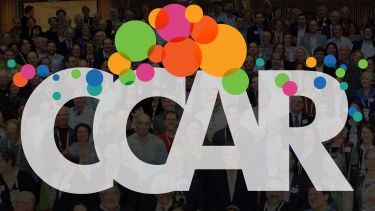 31 March 2019, 4:00 PM
to
3 April 2019, 11:00 PM
Cincinnati, OH
Export To Calendar (.ics)