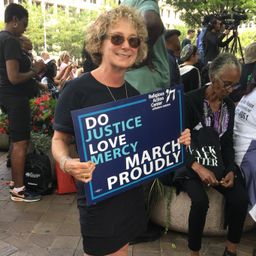 Debra Robbins
Temple Emanu-El, Dallas TX


Rabbi Debra Robbins has served Temple Emanu-El since 1991 and currently works closely with the Social Justice Council and its five committees, the Adult Jewish Learning Council, our Pastoral Care department and a variety of Worship initiatives. In addition to pastoral, life cycle and preaching responsibilities, she is a partner on Temple's programming team and teaches a variety of classes for adults.
Outside of Temple, Rabbi Robbins has served on the board of Jewish Family Service of Greater Dallas and Family Gateway and is the founding chair of the Vaad HaMikvah of the Rabbinic Association of Greater Dallas. Rabbi Robbins is involved nationally with the Central Conference of American Rabbis where she is a member of the Commission for Worship and Religious Practice. She served as Vice President for Leadership, as a mentor for the Ethics Committee, and she is a member of the Women's Rabbinic Network. She volunteers with Reading Village, a non-profit organization working in Guatemala to help teens become leaders through literacy.
Rabbi Robbins continues to learn and study. She led a national delegation to Jerusalem in celebration of the 25th anniversary of Women of the Wall and traveled to Israel as a guest of the government on the Rabbis Engaging with Israel Program in 2011. She attended the Kellogg School of Management Jewish Leadership Seminar, completed an 18-month program of study, prayer, meditation and yoga with the Institute for Jewish Spirituality and participates regularly in their alumni retreats.
Originally from Newton, Mass., Rabbi Robbins grew up at Temple Israel of Boston. While in rabbinic school, she served congregations in Kokomo, Ind., Anchorage, Alaska, and Los Angeles, Calif. She was ordained in June of 1991 at the Hebrew Union College-Jewish Institute of Religion in Cincinnati, Ohio, after receiving her Master of Arts degree in Hebrew Letters from the Los Angeles campus of HUC-JIR. She attended Colby College in Maine and received her Bachelor of Arts degree in English from the University of California at Berkeley. She has published essays in Ecology and the Jewish Spirit: Where Nature and the Sacred Meet and in Reform Judaism Magazine. Her work is also included in The Women's Torah Commentary and in Lights in the Forest. She is currently working on a book of creative nonfiction essays.
On a more personal note, Rabbi Robbins has traveled with her husband, Larry S. Robins, President and CEO of PediPlace in Lewisville, and her son, Sam, a student at the University of Denver, to nine United States National Parks, Egypt and Guatemala and made 20 trips to Israel in her lifetime.
Sessions in which Debra Robbins participates
Hilton Cincinnati Netherland Plaza - Rosewood
Worship
Debra Robbins, Temple Emanu-El, Dallas TX (Participant)
Nancy Kasten (Participant)