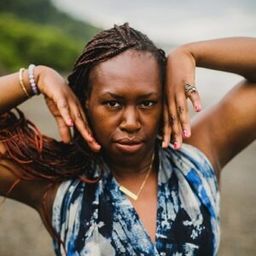 Nicole Pemberton
Team Leader
SoundKreations
Nicole Pemberton, is Team Leader at SoundKreations and director of J'ouvert Playhouse. She received a diploma from Grant McEwan University, Edmonton, Ab and a BA in Dance from the University of Calgary.
Professionally danced for Ballet Creole, Canboulay Dance Theatre, BravoFact videos directed by Seth Adrian Harris, Kristy Anthony, Whitney Cousins, Melanie Kloetzel and Jennifer Hammond. Nicole presented choreography in Dance at Noon/Night and Dance Montage, MPact- Something To Say, Invisible, The Cypher and currently Letters, Strange Change Dance Exchange, ONE 2013 and head choreographer Sci-Fi film Agophobia directed by Benjamin Hayden, The Calgary, AB workshop production of The Adventures of a Black Girl In Search of God, W.I.P. in Saskatoon, SK. Nicole has completed an artist in residency in Trinidad and Tobago with New Waves Dance and Performance Institute and collaborated with Toronto choreographer Sharon Harvey in 2014.
Nicole teaches artist residencies in schools with SoundKreations and continues to spread the love of dance through teaching at various studios such as DJD, Wildflower Arts Centre, Footprints Dance and Free Spirit Dance. She is also actively using her gifts, channeling movement and collaborating with artists creating a healing art practice called Dance From The Heart.
Sessions in which Nicole Pemberton participates