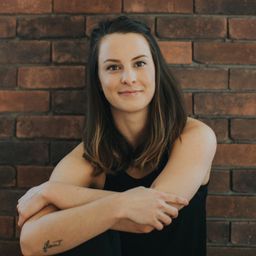 Jenna Galloway
Founder, Owner & Director
Wymbin Yoga
Jenna Galloway is the Founder & Owner of Wymbin- a youth yoga studio that focuses on providing families with wellness education, movement-based classes, and an inclusive community environment. She believes that by focusing on the health of our youth and implementing strong values, healthy coping mechanisms, and community-focused relationships we can make a big impact on society.

Jenna is an advocate for mental health initiatives and is also the Founder & Vice President of BEAM Foundation- a local not for profit organization committed to providing accessible, affordable yoga & wellness programs in support of the mental health and wellbeing of youth in Alberta.

Through her work, Jenna has had the opportunity to travel with Wanderlust Festival across North America, provide instruction for patients in the mental health program at The Alberta Children's Hospital, train over 200 Youth Yoga Instructors and work with many incredible organizations.

Jenna's vision is to implement meaningful programming for students across the world that enhances their resilience and ability to thrive in every day life. She aims to shift the current learning environment by collaborating with the students, parents, educators & instructors she works with to adapt and evolve programming, techniques, and trainings so that every child has the opportunity to reach their full potential.
Sessions in which Jenna Galloway participates