INSIGHT Cornea
W. Bruce Jackson, MD, FRCSC
Dr. Jackson completed his medical training at University of Western Ontario and residency in ophthalmology at McGill University. This was followed by a fellowship at the Proctor Foundation, University of California, San Francisco in cornea and external disease. He was Professor and Chair of Ophthalmology at McGill (1987-1991), and Chair and Director General of the University of Ottawa Eye Institute (1991-2008). Dr. Jackson moved from Ottawa to Peterborough, Ontario in December 2014 and continues his subspecialty practice in cornea and external disease with an emphasis on ocular surface disease at the Peterborough Clinic. He is a participant on several pharmaceutical advisory boards and presents clinical and research studies at major meetings. He has published numerous peer-reviewed articles and chapters related to refractive surgery, dry eye disease and new therapies, as well as training many cornea fellows. Dr. Jackson is the recipient of the COS Lifetime Achievement Award; Castroviejo Medal, Cornea Society; and Senior Achievement Award, AOA.
INSIGHT Glaucoma
Andrew Crichton, MD, FRCSC
Dr. Andy Crichton is a clinical professor of surgery at the University of Calgary. After graduating from medical school at the University of British Columbia, he did his ophthalmology residency in Toronto and his glaucoma fellowship in Vancouver with Dr. Stephen Drance and Dr. Gordon Douglas. Past President of The Canadian Glaucoma Society, Dr. Crichton has also assumed multiple roles such as: secretary of the Canadian Ophthalmic Society, president of the Ophthalmology Society of Alberta, and father of two. Dr. Crichton is interested in virtually all aspects of glaucoma. 
Devesh Varma, MD, BEng, FRCSC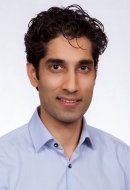 Dr. Varma is recognized across Canada as an emerging leader in ophthalmology.
He specializes in the full range of glaucoma surgery, performing both traditional and a variety of new minimally invasive procedures. In addition to routine and refractive cataract surgery, he has particular expertise in high-risk cataracts, the repair of complications from cataract surgery and reconstruction of the front portion of the eye.
He completed a bachelor's degree in engineering at Dalhousie University in Halifax where he graduated first in his class and was awarded the University Medal. He went on to complete his medical school training in Halifax and then a residency in ophthalmology in Saskatoon, which he completed in 2009. He pursued further training at the University of Toronto under Dr. Ike Ahmed, as a subspecialist in glaucoma and advanced anterior segment surgery.