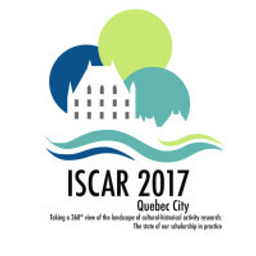 Sessions auxquelles Dr. Paul Thabano Nleya participe
Convention Center - 2101
Symposium (Symp)
Thérèse Laferrière, Université Laval (Modérateur.rice)
Nadia Rousseau, Université du Québec à Trois-Rivières (UQTR) (Participant.e)
Dr. Paul Thabano Nleya, University of Botswana (Participant.e)
Caroline Bouchard, Université Laval (Participant.e)
Dr. Rollande Deslandes, Université du Québec à Trois-Rivières (Participant.e)
Ms. Catherine Larouche, University of Quebec at Chicoutimi (UQAC) (Participant.e)
Denis Savard, Université Laval (Participant.e)
Suzanne Manningham, Université Laval (Participant.e)
Diane Gauthier, Université du Québec à Chicoutimi (Participant.e)
Dr. Lucie DeBlois, CRIRES, Université Laval (Participant.e)
It is our belief that knowledge transfer is not a one-way process. It is also our belief that research is a practice in its own right. In our colla...
Paper
Dr. Paul Thabano Nleya, University of Botswana (Participant.e)
There is much concern for humanity's contemporary cultural and historical circumstances and in particular the linkages between our scientific pract...
Convention Center - 205 A
Paper Session (PS)
Dr. Paul Thabano Nleya, University of Botswana (Participant.e)
Mrs. Magali Loffreda, Laboratoire STEF de l'ENS de Cachan (Participant.e)
Eric Bruillard, Laboratoire STEF ENS-Cachan (Participant.e)
Dr. Hanna Toiviainen, University of Tampere (Participant.e)
Liubov Vetoshkina, University of Tampere (Participant.e)
Ms. Katrin Riisla, University of Helsinki (Participant.e)
Anu Kajamaa, University of Helsinki (Participant.e)
Lasse Lipponen, University of Helsinki (Participant.e)
Antti Rajala, University of Helsinki (Participant.e)