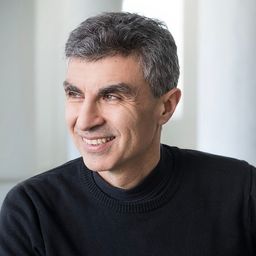 Yoshua Bengio
Conférencier | Speaker
Université de Montréal
Professeur titulaire au Département d'informatique et recherche opérationnelle (DIRO)
Chef du Laboratoire d'informatique des systèmes adaptatifs (MILA)
Codirecteur du programme Learning in Machines and Brains de l'Institut canadien de recherches avancées (ICRA)
Titulaire de la Chaire de recherche du Canada sur les algorithmes d'apprentissage statistique
Officier de l'Ordre du Canada
Chef de file mondial de l'apprentissage profond (
Deep Learning
), Yoshua Bengio est l'auteur du best-seller éponyme sur le sujet. Son ambition est de comprendre les mécanismes mathématiques et computationnels qui permettent à l'intelligence d'éclore lors du processus d'apprentissage. Par ses recherches, Yoshua Bengio a contribué à l'avancement des connaissances dans de nombreux domaines de l'apprentissage machine. Il est notamment reconnu pour ses résultats théoriques sur les réseaux de neurones récurrents, les noyaux (
kernel machines
), les représentations distribuées, la profondeur des architectures neuronales et le défi d'optimisation de l'apprentissage profond. Ses travaux ont été essentiels pour avancer sur les questions de profondeur d'apprentissage des réseaux, sur la façon dont les réseaux de neurones peuvent apprendre automatiquement des mots par une représentation vectorielle (
vector embeddings
), sur celle dont la traduction automatique peut bénéficier de l'apprentissage profond par le biais de mécanismes d'attention, ou encore sur l'apprentissage non supervisé grâce à des modèles génératifs profonds. Auteur de trois livres et de plus de 300 publications scientifiques, Yoshua Bengio est parmi les chercheurs en informatique les plus cités au Canada et est, ou a été, directeur associé des meilleures revues sur l'apprentissage machine et les réseaux de neurones.
Full Professor of the Department of Computer Science and Operations Research,
Head of the Montreal Institute for Learning Algorithms (MILA)
Co-director of the CIFAR program on Learning in Machines and Brains 
Chairholder of Statistical Learning Algorithms of Canada Research Chair
Officer of the Order of Canada
Yoshua Bengio is the world-leader expert on Deep Learning and author of the best selling book on that topic. His research objective is to understand the mathematical and computational principles, which give rise to intelligence through learning. He contributed to a wide spectrum of machine learning areas and is well known for his theoretical results on recurrent neural networks, kernel machines, distributed representations, depth of neural architectures, and the optimization challenge of deep learning. His work was crucial in advancing how deep networks are trained, how neural networks can learn vector embeddings for words, how to perform machine translation with deep learning by taking advantage of an attention mechanism, and how to perform unsupervised learning with deep generative models.  He is the author of three books and more than 300 publications, is among the most cited Canadian computer scientists and is or has been associate editor of the top journals in machine learning and neural networks.
Sessions in which Yoshua Bengio participates