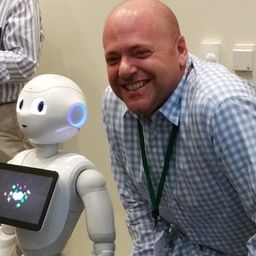 Ian Kerr
Panéliste | Panelist
University of Ottawa
Titulaire de la Chaire de recherche du Canada en éthique, droit et technologie
Professeur titulaire, Département de philosophie et École des sciences de l'information, Facultés de droit et de médecine, Université d'Ottawa.

Ian Kerr participe à l'émergence du droit et de l'étude des politiques relatifs à l'intelligence artificielle et la robotique; ainsi il est considéré parmi les leaders mondiaux de la protection de la vie privée. Sur ce thème, ses recherches étudient les relations entre les droits fondamentaux et civils d'une part, et les technologies de surveillance utilisées par les secteurs public et privé de l'autre. Son nouveau livre, Robot Law (2016), analyse le transfert des tâches et décisions humaines vers les machines, afin d'énoncer les structures de gouvernance de la robotique et de l'intelligence artificielle.

Canada Research Chair in Ethics, Law and Technology 
Full Professor, University of Ottawa, Faculty of Law, Faculty of Medicine, Department of Philosophy, School of Information Studies

Ian Kerr holds a unique, four-way appointment in the Faculty of Law, the Faculty of Medicine, the Department of Philosophy and the School of Information Technology at the University of Ottawa.

He is a pioneer in the burgeoning field of AI and Robotics Law and Policy and a global leader in the field of privacy. His ongoing privacy work focuses on the interplay between emerging public and private sector surveillance technologies, civil liberties and human rights. His recent work, including his new book, Robot Law, studies the delegation of human tasks and decision making to machines with the aim of developing frameworks for the governance of robotics and artificial intelligence.
 
Sessions in which Ian Kerr participates