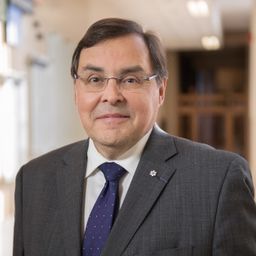 Guy Breton
Allocution d'ouverture
Université de Montréal
Recteur de l'Université de Montréal
Coprésident du comité d'orientation pour le développement de l'intelligence artificielle au Québec
 
Guy Breton est recteur de l'Université de Montréal depuis juin 2010. Médecin et radiologiste ayant débuté sa carrière de professeur à la Faculté de médecine de l'Université dès 1979, il est aujourd'hui reconnu comme étant un gestionnaire visionnaire et audacieux dans les secteurs universitaire et des soins de santé, ainsi que pour ses capacités de communication et de mobilisation dans les changements organisationnels.
 
Depuis mai 2017, Dr. Breton copréside, avec Pierre Boivin, président et chef de la direction de Claridge, le comité d'orientation pour le développement de l'intelligence  artificielle au Québec.
Ce comité a pour mission d'accélérer et optimiser le développement de la grappe, par l'élaboration d'un plan stratégique qui misera sur la recherche et l'innovation collaborative en intelligence artificielle, la création des conditions favorables pour l'attraction d'experts de haut niveau, l'essaimage d'entreprises, le déploiement des nouvelles applications, et bien sûr, la rétention des talents et des entreprises au Québec.

Rector of Université de Montréal 
Co-Chair of the Steering Committee for the Development of Artificial Intelligence in Quebec 
 
A physician and radiologist by training, Guy Breton has been the rector of Université de Montréal since 2010. He is a bold and visionary administrator with a solid track record of initiating and accomplishing major institutional change. Since May 2017, along with Pierre Boivin, chairman and CEO of the Montreal investment firm Claridge Inc., Dr. Breton has co-chaired the Quebec government's steering committee on making the province a global hub of research in artificial intelligence. The committee will draft a strategic plan focused on collaborative research and innovation, the fostering of an attractive environment for high-level experts, entrepreneurial spin-offs, the development of new applications, and of course the retention of local research talent and entrepreneurs.
Sessions in which Guy Breton participates
517-D

8:45 AM - 9:00 AM | 15 minutes