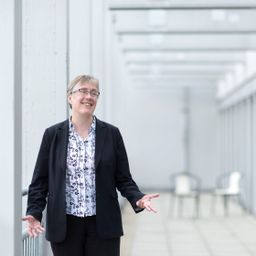 Joanna J. Bryson
Panéliste | Panelist
University of Bath
Professeure agrégé, Département d'informatique, Université de Bath.
Associée au Center for Information Technology Policy (CITP) de l'Université Princeton.
Joanna J. Bryson est une chercheure transdisciplinaire, spécialisée dans les structures et dynamiques de l'intelligence humanoïde et animale. Publiées sur Reddit aussi bien que
Science
, ses recherches vont de l'intelligence artificielle à coopération humaine, en passant par l'autonomie et l'éthique robotique. Elle est diplômée de psychologie des universités de Chicago et Édimbourg, et en intelligence artificielle du MIT et d'Édimbourg. Elle a aussi œuvré comme chercheure à Princeton, Oxford, Harvard et auprès du développeur LEGO (Édimbourg). De plus, Madame Bryson fut aussi consultante en gestion internationale et travailla pour le secteur financier à Chicago.
Reader (tenured associate professor), University of Bath, Department of Computer Science
Affiliate of 
Princeton's Center for Information Technology Policy
 (CITP)
Joanna J. Bryson is a transdisciplinary researcher on the structure and dynamics of human- and animal-like intelligence. Her research covering topics from artificial intelligence, through autonomy and robot ethics, and on to human cooperation has appeared in venues ranging from a 
reddit
 to 
Science
.  She holds degrees in Psychology from Chicago and Edinburgh, and Artificial Intelligence from Edinburgh and MIT. She has additional professional research experience from Princeton, Oxford, Harvard, and LEGO, and technical experience in Chicago's financial industry, and international management consultancy. Bryson is presently a Reader (associate professor) at the University of Bath, and an affiliate of Princeton's Center for Information Technology Policy.
Sessions in which Joanna J. Bryson participates
Signup required
Registered On Wait List Session is full

520-AD

1:30 PM - 3:00 PM | 1 hour 30 minutes
Panel