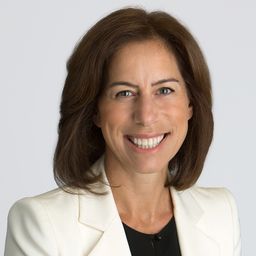 Jodie Wallis
Conférencière | Speaker
Accenture
Responsable principale chez Accenture 
Directrice générale IA Canada

Jodie Wallis est une responsable principale chez Accenture et la directrice générale de la pratique d'intelligence artificielle (IA) au Canada. Dans le cadre de ses fonctions, Mme Wallis est responsable de faire croître la présence commerciale d'Accenture dans le domaine de l'IA, d'attirer les ressources les plus talentueuses, et d'amener l'innovation et le niveau d'expertise mondial en IA aux clients canadiens de tous les secteurs.

Mme Wallis dirige la collaboration entre Accenture et ses partenaires commerciaux, le gouvernement et les universités dans l'écosystème de l'IA, au moment où les organisations se tournent de plus en plus vers l'IA comme principale façon de mener leurs affaires. Elle travaille également auprès des clients canadiens pour les aider à réaliser l'avantage net potentiel de l'IA. Aussi, elle supervise les investissements d'Accenture dans l'écosystème canadien de l'IA, incluant le parrainage de l'Institut Vecteur pour l'intelligence artificielle (IA) au Canada, et d'autres organisations.
 
Durant ses 24 années chez Accenture, Mme Wallis a développé une vaste expertise en conseil de gestion et en conseil technologique. Elle a œuvré auprès de clients dans plusieurs secteurs, dont, tout récemment dans le secteur bancaire personnel et commercial, et celui de l'assurance vie et de l'assurance maladie.
 
Mme Wallis est titulaire d'un baccalauréat spécialisé en mathématiques de l'université de Waterloo, avec une majeure en recherche opérationnelle et une mineure en statistiques et informatique. Elle fait activement du bénévolat dans la communauté de Toronto, en tant que membre du comité d'organisation du défi d'entreprises Guts + Glory de Covenant House qui collecte des fonds pour la plus grande agence canadienne œuvrant auprès des jeunes à risque, sans-abris, et victimes de la traite des personnes.

Senior leader at Accenture
Managing Director AI Canada

Jodie Wallis is a senior leader at Accenture and the Managing Director for Artificial Intelligence (AI) in Canada. In this role, Wallis is responsible for expanding Accenture's business presence in the AI space, attracting top talent, and bringing innovation and global AI expertise to Canadian clients across all industries.

In her role, Wallis leads Accenture's collaboration with business partners, government and academia in the AI ecosystem, at a time when organizations increasingly are turning to AI as the predominant way to do business. She also works with Canadian clients to unlock the potential bottom-line benefits of AI. She also oversees Accenture's investments in the Canadian AI ecosystem, including its sponsorship of the Vector Institute for artificial intelligence (AI) in Canada, and other organizations.
 
During her 24 years at Accenture, Wallis has developed deep expertise in management consulting and technology consulting. She has served clients in several industries including, most recently, personal and commercial banking as well as life and health insurance.
 
Wallis earned her Bachelor of Mathematics with Honours from the University of Waterloo, where she majored in operations research and minored in statistics and computer science. She actively volunteers in the Toronto community, serving on the organizing committee of the Covenant House Guts + Glory Corporate Challenge, which raises funds for Canada's largest agency serving at-risk, homeless and trafficked youth.
Sessions in which Jodie Wallis participates