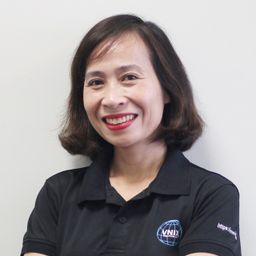 Nguyen Thi Thu Thuy
Director of Cooperation & Internet Resources Management at the Vietnam Internet Network Information Center (VNNIC)
Ministry of Information and Communications of Vietnam
Ms Thuy holds a Master degree in Electronics and Communications industry from Hanoi University of Science and Technology.
After graduating, she had two years of working for Hanoi Radio – Television Unit. She joined Vietnam Internet Network Information Center (VNNIC) in 2002.
She had 20 years of experience in Internet resources (IP, ASN, ".vn" cctld) management, policy development and usage promotion. Ms Thuy has been actively worked on IPv6 promotion and deployment within the local community, as well as region. She is the author of the book with title "Introduce about the new version Internet address – IPv6", which was published by VNNIC in 2005. With colleagues in VNNIC, she setup an IPv6 training course which had been used for ISPs and community in IPv6 development program. Ms Thuy is a member of the Vietnam National IPv6 Task Force.
Ms Thuy initiated and contributed to many projects that have brought Viet Nam to be in top 10 countries having highest IPv6 adoption rate in the world, including Viet Nam's IPv6 Action Plan (for the period of 2011-2019), Viet Nam IPv6 for Gov Program (for the period of 2021 – 2025). For the region, Ms Thuy engaged in several ASEAN's projects related to IPv6 deployment, such as "IPv6 promotion for SMEs – 2016"; act as the lead of IPv6 field in the project with title "ASEAN Smart ICT Ecosystem" (2019-2020), aims to assessing challenges in IPv6 adoption in ASEAN, design Architecture for the ASEAN Smart Cities platforms with due consideration on the Use of ICT for DDRM System and the availability of a secure, scalable, and connectable TCP/IP address identifiers.
Sessions in which Nguyen Thi Thu Thuy participates
Panel
Sinchai Kamolphiwong, IpV6 Task force Thailand (Speaker)
Navaneethan C. Arjuman, IPv6 Forum Malaysia (Moderator)
Nguyen Thi Thu Thuy, Ministry of Information and Communications of Vietnam (Speaker)