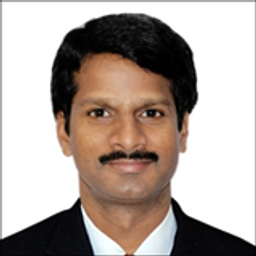 Ezhil Buddhan
Chief General Manager, Chief General Manager, Broadband Networks, Network Operations Centre
Dept. of Telecom
Born in Tindivanam on 01.06.1966 to Shri Durai Munisamy, Teacher and Smt. Balambal Munisamy. Graduated from Government College of Technology, Coimbatore, Tamil Nadu during 1983-87 in Electronics & Communication Engineering Branch. Pursued his Post Graduation (PGPPM) from the Indian Institute of Management, Bangalore (IIMB).
Started the career as System Engineer Testing at Bharat Heavy Electricals Limited (BHEL EDN) Bangalore. After 30 months of experience, Joined Indian Telecom Service, 1987 Batch probationer as Assistant Divisional Engineer Telecom. Presently working as Principal General Manager (PGM) Broadband Networks, responsible for the Broadband Operations / Internet Services of the country. Before joining this post, he was serving as General Manager Broadband Networks. He has served as General Manager Telecom, Malappuram Telecom District of Kerala State, Director (Southern Region) of the Regional Telecom Engineering Centre, the Technical wing of Department of Telecommunications, Ministry of Communications, Government of India. He has served at various responsibilities in the Department of Telecommunication as Assistant Divisional Engineer, Divisional Engineer (Data Communication), Divisional Engineer (Electronic Data Exchanges), Deputy General Manager (Technical) Mahanagar Telephone Nigam Limited, Director Data Networks (South &West Region) and Deputy General Manager (Business Development & Marketing), Deputy General Manager (Enterprise Business solutions). Has served in Bharat Heavy Electricals limited (BHEL), Department of Telecommunications, Mahanagar Telephone Nigam Limited Mumbai, Bharat Sanchar Nigam Limited at various capacities especially on Data Services including Internet, Broadband / Multiplay, OSS/ BSS Projects, Data Centre & Infrastructure Management and ICT Projects.
An industrial Leader owning 30+ years of Telecom Experience with Country Level Project Management, Financial Management, Human Resources Management, Process Management, Operations Management, General Administration & Staff Welfare, and domain expertise in Data Networking arena. Has designed and implemented First of its kind Data Networks of the country including Inet (Packet Switched Public Data Network), National Internet Backbone (NIB), Multi-Protocol Label Switching Networks (MPLS), Broadband & Multiplay Networks, Project 2 for the Access Networks, and integrating them across various services and solutions apart from Installation, Testing, Commissioning and Validating Networks. Has deployed the necessary interface to the Network Elements and Customers using Best of Breed CRMs, OSS/ BSS and Messaging platforms etc. Have been responsible for the implementation and deployment of the first of its kind WiMAX, FTTH (Fibre to the Home), Wi-Fi Networks to effectively support and contribute for all the digital initiatives of the country. As a Business Development Head of the Data Business of BSNL, provided Networking Architecture and Design solutions to customers of various segments which includes Corporate customers, Government institutions both Central & State Government, Financial Institutions, SMEs and Business organizations.
Has represented India in the International forums and conferences which includes the deputation to CIT ALCATEL, France, SGI Singapore, Cisco USA and Sun Networks USA to study about Data Network Implementations. As a part of the Indian Delegation, participated in the APT Ministerial Conference on Broadband and ICT Deployment along with the MOC (Minister of Communications, Govt. of India) at Bangkok Thailand in 2004. He has represented India in the ITU- Cross Regional Seminar held at Chisinau, Republic of Moldova and presented a paper on "The Impact of Broadband services on Social Development – Indian Implementation Perspectives". Had participated in the Work Group Meetings as a member of the Study Group -13, Study Group- 11 of (International Telecommunications Union) ITU-T and in the Work Group of SG-4B of ITU. As a part of the ITU, Commonwealth Telecom Organization's initiative, he was deputed to Mauritius to impart training on Data Centre Management to the Delegates of Mauritius Telecom, was deputed to South Africa to impart training on the Data Centre & Infrastructure Management to the delegates of South African Region and that of South African telecom.
Has completed the International Module at Centre for Public Policy and Citizenship affairs, Syracuse University, New York, USA and presented a Paper on Broadband Policy for India at Maxwell School, Syracuse University. At IIM, Bangalore, as a part of the research work he has focused on "Comprehensive Data Policy for Government of India- a Broadband Perspective". Has published papers on the National, International journals on various topics which includes "Trends in Telecom", "New Paradigm in Telecom Sector – its advantages to Corporate India", "Data communication", "Why Data Networking - a Business Perspective", Quality Practices in Implementing Networks", "Customer Relationship Management", "Interoperability of Networks", "Broadband Policy", "Broadband as a Social Development Tool", "Impact of Broadband on society- an Educational perspective", "Broadband for everyone – Implementation Methodologies and Strategies", "Security in Next Generation Networks", "IPv6 and its utility for India" , "IPv6 in the International Arena", "Standards make the world accessible for all- an Indian perspective", "Security Challenges in IoT" and Planning & Implementing Rural Wi-Fi Networks for India
Has participated in National and International conferences as Delegate, Keynote Speaker, Chair and Panelists of both Technical and Management Areas. Participated in various forms of interactions at National and International Educational Institutions, Industrial deliberations, Technical and Management forums. Guided various projects of Technical and Management Studies for various levels including UG, PG and Doctoral Research. Contributes the maximum to reduce the gap between the Industry and the Academia by organizing and actively participating in various seminars, conferences, trainings, lectures, interactive sessions of the industry. Been a part from sharing and learning from the industry experts and partners which also includes CII, FICCI, etc. Always keen in motivating and inspiring the younger generation and the academic community, he works for the college students ensuring the smooth migration/ transition from institution to industry. With an unquenchable thirst for learning, he continues contributing to development of the organization and Nation adding new dimensions to the incredible techno-commercial experience.
Sessions in which Ezhil Buddhan participates
6:00 - 7:00 | 1 hour
Panel