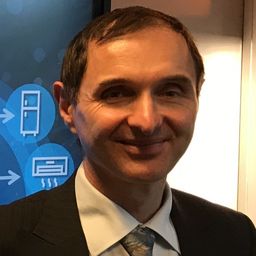 Svetoslav Mihaylov
Policy Officer
European Commission
Svetoslav Mihaylov is a Policy Officer in Unit H5 – Smart Mobility and Living at the European Commission's Directorate-General for Communications Networks, Content and Technology. His areas of responsibility are interoperability and standards for Smart Cities, smart appliances - smart home, smart energy, data centres/ICT sustainability, etc. In this position he has lead the creation of the SAREF ontology for smart appliances and its extension in other IoT areas and he is leading the work on urban platforms under the European Innovation Partnership for Smart Cities and Communities.
In the period 1999-2013, Svetoslav Mihaylov held different positions at the largest telecom operator in Belgium Proximus and was responsible for introducing new technologies, creating network solutions, defining the strategy and roadmap, etc. Prior to this he worked on a contract for the European Commission's DG XIII Telecommunications and several other organisations/companies.
He has an MSc in Telecommunications from Technical University of Sofia (plus Technical University of Denmark), postgraduate diploma in Wireless Telecommunications from Oxford University and postgraduate credit in Political and Economic Systems from Georgetown University.
Sessions in which Svetoslav Mihaylov participates