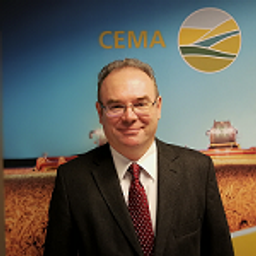 Jérôme Bandry
Secretary General
CEMA European Agricultural Machinery
Jérôme Bandry joined CEMA in January 2018 following an international career within Caterpillar Inc, where he held several leadership positions with increasing responsibilities over 27 years. In his most recent position, he was the company's Director of EU Government Affairs. For over a decade, Mr. Bandry has been actively engaged in several European trade associations at sectoral and horizontal levels, including his chairmanship of the Transport, Energy and Climate Committee of the American Chamber of Commerce to the European Union between 2006 and 2017.
CEMA (www.cema-agri.org) is the association representing the European agricultural machinery industry. With 10 national member associations, the CEMA network represents both large multinational companies and numerous European SMEs active in this sector. CEMA represents more than 4,500 manufacturers, producing more than 450 different machine types and generating an aggregated annual turnover of more than EUR 28 billion. 135,000 people are directly employed in the sector, with a further 125,000 people working in distribution and maintenance.

CEMA is partner of the Smart-AKIS project, a Horizon 2020 initiative focusing on Smart Farming Technologies. Smart-AKIS is aimed at examining the suitability and use of Smart Farming Technologies in EU Agriculture: the project's main objective is to disseminate direct applicable research and commercial solutions and capture grassroots level needs and innovative ideas.

In his presentation, "Agriculture 4.0: The way forward for the ag. Machinery industry in Europe", Mr. Bandry will focus on data exchange, ownership and sovereignty, thus looking at barriers, needs, but also possible solutions. Starting from the outcomes of the Smart-AKIS project till the recent EU Code of Conduct of Agricultural Data Sharing, Mr. Bandry will present the strategy, role ad challenges for the Agricultural Machinery Industry in Europe."

Sessions in which Jérôme Bandry participates