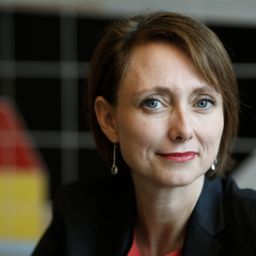 Ms. Annabeth Aagaard
Associate Professor - Research Director of Centre for Business Development
Aarhus University
Passionate lecturer, researcher, author and strategic advisor in digital and sustainable business development, innovation management and strategy development.

Annabeth Aagaard (PhD, MsC) is an Associate professor and the Center Director of Interdisciplinary Center for Digital Business Development at Aarhus University. She holds a PhD in Front End Innovation in Pharma from Aalborg University and H. Lundbeck A/S and her research, publications, teaching and projects are focused on:
- Business development & business model innovation
- Digital business models and digital transformation
- Sustainable business models and sustainable innovation
- Innovation management, open innovation & front end innovation

Her research has been published in Journal of Product Innovation Management, Creativity and Innovation Management, Scandinavian Journal of Management etc.

She has authored/co-authored over 15 books, among other:
"Digital Business Models - driving transformation and innovation ". Palgrave MacMillan, 2019.
"Sustainable Business Models - innovation, implementation, success". Palgrave MacMillan, 2018.
"Sustainable Business - Integrating CSR in Business & Functions", River Publishers, 2016
"Succesful CSR - fra teori til praksis" Gyldendal Business 2012
"Idea and innovation management & leadership", Gyldendal 2011
"Innovation & Entrepreneurship, Hans Reitzels Forlag 2011

For 16 years she has been the CEO of the research-based consultancy company THE KNOWLEDGE HOUSE, which conducts strategy and business development, innovation and change processes, workshops and pep talks in:
- Strategic management & strategy development
- Business development & innovation management
- Digitalisation & knowledge management
- Sustainable Business and sustainable innovation
- HRM & change management
Read more at: www.denvidendevirksomhed.dk or www.knowledgehouse.dk.
Sessions in which Ms. Annabeth Aagaard participates
4:30 PM - 5:30 PM | 1 hour

Digital technologies are unlocking new business opportunities and with that new business models. For example, we have seenservitization as a key co...