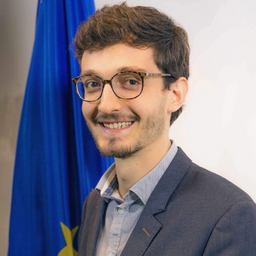 Kristof Almasy
Policy officer
European Commission
Kristóf Almásy is a policy officer at the European Commission's Directorate General for Communications Networks, Content and Technology (DG CNECT), in the Internet of Things unit.
He works on the digitalisation of mobility, notably on the deployment of the common European mobility data space.
With a background in public policy and economics, he has held various positions linked to the digital transformation of the economy in the Commission, the French Directorate General for Enterprise and in consulting.
Sessions in which Kristof Almasy participates
Croke Park Conference Centre - Hogan Mezzanine 1
Panel
Rolf Riemenschneider, European Commission (Chair)
Giorgio Micheletti, IDC (Speaker)
Richard Stevens, European Government Consulting (Speaker)
Kristof Almasy, European Commission (Speaker)
Léo Saint Martín, DECISION Etudes & Conseil (Speaker)
Sessions in which Kristof Almasy attends
Croke Park Conference Centre - Hogan Mezzanine
Keynote
Sébastien Ziegler, Mandat International (Chair)
Pearse O'Donohue, European Commission (Speaker)
Mark Ferguson, European Commission (Speaker)
Jürgen Sturm, AIOTI (Speaker)
Laure Le Bars, SAP (Speaker)
Chaesub Lee, COLLCOMM (Speaker)
Kevin Doolin, Walton Institute (Speaker)
Croke Park Conference Centre - Hogan Mezzanine 2
Panel
Olaf-Gerd Gemein, Smart Cities Lab (Moderator)
Wojciech Marcinkowski, Intel (Speaker)
Klaus Ottradovetz, Atos SE (Speaker)
Rainer Sträter, IONOS SE (Speaker)
Hannes Bauer, Truzzt Alliance (Speaker)
Michael Schäfer, Mobility Data Space (MDS) (Speaker)
Albert Seubers, Atos (Speaker)
Croke Park Conference Centre - Suite 681/682
Panel
Latif Ladid, IPv6 Forum (Moderator)
Maurizio Cecchi, Institute P.I.I.U. (Speaker)
Miquel Payaró, CTTC (Speaker)
Dirk Hetzner, T-Systems (Speaker)
Coen Bresser, ERTICO (Speaker)
Croke Park Conference Centre - Nally Suite
Panel
Rolf Riemenschneider, European Commission (Chair)
Erik Maqueda, Tecnalia (Speaker)
Olivier Genest, Trialog (Speaker)
Alberto Dognini, E.ON Energy Research Center (Speaker)
Laura Daniele, TNO (Speaker)
Juan José Hierro, Fiware Foundation/Fiware Technical Steering Committee (Speaker)
Henrik Madsen, DTU Orbit (Speaker)
Croke Park Conference Centre - Canal Café
Workshop
Timoleon Farmakis, Athens University of Economics Business (Speaker)
Isabelle Landreau, IDEMIA (Speaker)
Philippe Hercelin, IDEMIA (Speaker)
Vasiliki Koniakou (Speaker)
Pascal Duville (Speaker)
Croke Park Conference Centre - Nally Suite
Panel
George Strawn, FAIR Digital Object Forum (Speaker)
Malte Lochau, University of Siegen (Speaker)
Peter Wittenburg, FDO Forum (Speaker)
Stefan Weisgerber, DIN (Speaker)
Ana Garcia Robles, Big Data Value Association (BDVA) (Chair)
Françoise Soulié, GPAI (Speaker)
Croke Park Conference Centre - Nally Suite
Panel
Svetoslav Mihaylov, European Commission (Moderator)
Antonio Kung, Trialog (Moderator)
Juan José Hierro, Fiware Foundation/Fiware Technical Steering Committee (Speaker)
Fabio Coelho, INESC TEC (Speaker)
Gyu Myoung Lee, Liverpool John Moores University (Speaker)
Silvia Castellvi, IDSA (Speaker)
Milenko Tosic, VizLore Labs Foundation (Speaker)