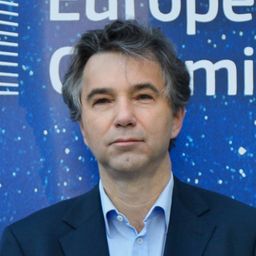 With more than 25 years of experience, Detlef Fuehrer is veteran of the electronics and ICT industry where he held various management positions in R&D, Marketing, and Application Engineering. Holding a diploma in Electronic Engineering from Dortmund University, he started his professional career at Hitachi Electronic Components in Germany and Japan.
In 1994 he moved to Texas Instruments Europe where he drove the introduction of DSP-based System-on-Chip solutions for wireless and wireline broadband communications, in particular DSL, into the European market. Between 1998 and 2008 he worked for the global leader in DSL chipsets at that time, Alcatel Microelectronics/ STMicroelectronics, in the domains of DSL, broadband home networking, and mobile communications.
In 2008 he joined the European Commission's Joint Research Centre (JRC) where he has been in charge of Technical/Scientific support for the development of European Radio Spectrum Policies. During his tenure the JRC's Radio Spectrum Laboratory was established which studies opportunities, risks, and enablers of deploying emerging wireless technologies, with a specific focus on 5G and the IoT.
Mr Fuehrer published numerous studies on spectrum sharing and wireless coexistence and represented the European Commission as an expert at the Radio Spectrum Committee, the ITU, CEPT, and ETSI.
Sessions auxquelles Detlef-Georg Fuehrer participe