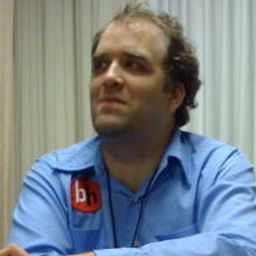 We are thrilled to announce the next exciting development for Loscon 2018: more fabulous guests of honor! Randal Keith Milholland, an editorial comic artist, is best know for his long running semi autobiographical web comic Something Positive. Through the adventures and misadventures of Davan, Milholland offers nearly 20 years of dark witty commentary on modern life as a fan. Adapting to the ever developing world of internet publications, he was an early pioneer of micropatronage, quitting his day job to focus on full time on his art in 2004 and has been going strong ever since. He is also known for spinoff comics Something Positive 1937 and Midnight Macabre, as well as original comics New Gold Dreams and Super Stupor. His interests include community theater, role playing games, and lounging lazily at conventions. Today he lives in Georgia, distributing art and sarcasm in his wake.
To view his work, please visit.
https://somethingpositive.net/index.html
I hope you are all as excited to meet him as we are.
Sessions in which Randy Milholland participates
Pacific Coast 3 (Formerly Boston)

5:30 PM - 6:45 PM | 1 hour 15 minutes
Keynote