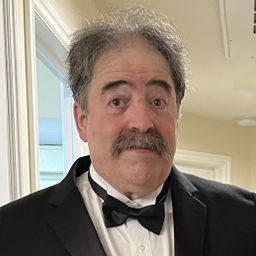 Matthew B. Tepper was born in a blue castle in Hollywood. In 1968, he entered fandom as a minor nuisance, and has since developed into a major annoyance. In 1969, he joined LASFS, a move that will have historians in the future shaking their heads in disbelief. In 1970, Matthew met Isaac Asimov, who likened him to a young Harlan Ellison, causing Robert Silverberg to remark, "Let's kill him now!" Since 1970, Matthew hasn't really accomplished anything worth mentioning, apart from earning two useless degrees in Musicology, and getting elected President of LASFS so many times he has lost count. In addition to wasting his time (according to his parents) in fandom, Matthew's hobbies include Reeling, Writhing, Drawling, Stretching, and Fainting in Coils.
Matthew lives in Valley Glen, California, with his wife Debra Levin, stepson Ben Levin, and stepdog Ghost.
He also likes ducks.
Sessions in which Matthew B. Tepper participates
California 4 (formerly Miami)

10:00 AM - 11:15 AM | 1 hour 15 minutos
Pacific Coast 2-3 (Formerly Atlanta/Boston)

2:30 PM - 3:45 PM | 1 hour 15 minutos
California 2 (Formerly St. Louis)

5:30 PM - 6:45 PM | 1 hour 15 minutos