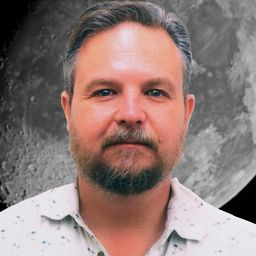 Chris Butler is an internationally renowned artist, public speaker, and educational program producer whose work focuses on science, nature, and maritime subjects. His illustrations have appeared in thousands of publications worldwide, from the Times of London to Scientific American. A graduate of California State University Fullerton's school of Television and Film Production, Chris has served as a art director and animator on both educational and entertainment programs.
Chris has served as an artist and animator for planetarium and exhibit programs for the Griffith Observatory in Los Angeles for 22 years, and is a regular lecturer at education venues across the country. Chris's unique art and presentation style reflects his diverse experience; he has been the director of a children's science museum, a tour guide on the original Queen Mary, a technical illustrator, a representative for a telescope manufacturer, an amateur astronomer, and a financial analyst on the space shuttle program for Rockwell International.
Chris was the 2006 recipient of the Western Astronomical Association's G. Bruce Blair Medal for service to astronomy. Chris was also recognized in 2002 by having an asteroid named in his honor by the International Astronomical Union (minor planet 13543 Butler). In 2008, Chris was elected as a Fellow of the Royal Astronomical Society (F.R.A.S.) in recognition of his service to international science education.
An avid amateur astronomer, Chris brings direct experience with astronomy to his work. He has served as a vice-president and board member of the Orange County Astronomers (the largest organization of its kind in the world), and is a life member of the Los Angeles Astronomical Society.
Sessions in which Chris Butler participates