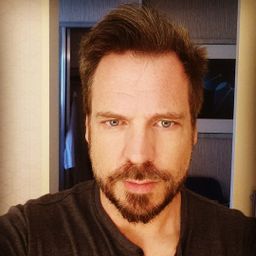 WILLIAM O'NEILL GENTLEMAN NERD – President Hurricane Entertainment, writer and Illustrator
O'Neill is a professional illustrator and writer, and co-founder of the comic book company Hurricane Entertainment. There he was the initial creator and artist of the comic book series CHASSIS and co-created the critically acclaimed VIOLENT MESSIAHS. Both series were originally published through Hurricane Entertainment at Image Comics, with VM Graphic Novels from IDW Publishing. O'Neill wrote the comic book series JOHN CARPENTER'S SNAKE PLISSKEN CHRONICLES, at Cross Gen, based on the lead character from ESCAPE FROM NEW YORK. The book was produced in partnership with Carpenter, Kurt Russell and the late Debra Hill as part of a multimedia rebranding of "Snake Plissken," Russell's iconic anti-hero character.
As an illustrator William's clients have included; Lucasfilm, Acme Archives, Netflix, Printed in Blood, Fox Television, MGM, New Line, Jim Henson Productions, Topps, Inkworks, Hanna-Barbera, Cross-Gen, Image Comics, Rittenhouse, and Warner Bros.
In the film industry O'Neill co-wrote and co-created MILES FROM NOWHERE, a TV pilot, formally in development at Jim Henson Productions. He also teamed with 4 time Academy Award winner Ben Burtt (WALL-E, STAR WARS, INDIANA JONES) to develop his property CHASSIS as a feature film. The union resulted in a film treatment and short demo film, directed by Burtt with visual effect by THE THIRD FLOOR. O'Neill wrote AGENT 88: EPISODE X, a dark, action comedy which became the highest grossing web pilot on Kickstarter - raising $105k in 30 days.
O'Neill is an official Lucasfilm Artist and was selected to create limited edition prints for five different STAR WARS CELEBRATION shows. He is probably best known for his Celebration print entitled "Scoundrels" depicting Harrison Ford's two most iconic roles, Indiana Jones and Han Solo.
His most recent artwork appears in; "Visions from the Upside Down: Stranger Things artbook," published by Printed in Blood for Netflix.
William is currently working on several new projects including a screenplay and a new comic book property, a sci-fi comedy titled VEXXED "A DICK FROM OUTERSPACE."
Sessions in which William O'Neill participates
California 2 (Formerly St. Louis)

11:30 AM - 12:45 PM | 1 hour 15 minutos