Face It: Elder Abuse Happens – Community of Practice, Taking Action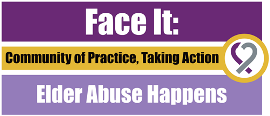 FACE IT: Elder Abuse Happens – Community of Practice, Taking Action Conference
to be held at the River Cree Resort and Casino 300 East Lapotac Blvd, Enoch, AB T7X 3Y3

Evening Trade Show April 30, 2018
Conference Sessions May 1 and May 2, 2018.
Alberta Elder Abuse Awareness Council and Alberta Seniors and Housing are proud to co-host FACE IT: Elder Abuse Happens – Community of Practice, Taking Action Conference.
FACE IT: Elder Abuse Happens – Community of Practice, Taking Action Conference offers a three day event with two days of conference sessions which provides unique opportunities for professionals to hear from dynamic speakers and learn more about complexities of elder abuse.
Professionals will have the opportunity to share information and enhance knowledge and capacity among practitioners in the field of elder abuse.

This conference will feature 'It's Not Right' Neighbours, Friends and Families for Older Adults training on May 1 by Margaret MacPherson, Centre for Research & Education on Violence against Women & Children at Western University.


---
Here are the steps to register.
1. Go to the registration page of the site
https://sites.grenadine.co/sites/simplex/en/face-it/register and purchased a registered ticket.
Once you register if you have haven't done so already, you will need to create an account using the create an account link in the registration confirmation email. Once you have set up an account, you will have access to your profile, MY SCHEDULE.
2. After clicking on the Create an Account link in this email, you will be presented with a box which asks for your email address used to register.

3. Once you have entered your email address used to register there is a checkbox, asking if you are a new user or existing user.

Check New User, click SIGN UP.
4. Once you have clicked SIGN UP, you will be taken to a screen to create a password (require 8 characters).
5. You will receive a confirmation email, check your email.
6. When you receive the email, you will be required to confirm your account.
This is what it will look like....
Welcome to the conference,

Click on the link below to confirm that you own this email address:
Confirm my account
If the link is not clickable in your email client, you can copy the following URL and paste it in your browser
Once you create an account, you can then add more sessions, and remove sessions.
About
Face It: Elder Abuse Happens – Community of Practice, Taking Action
Event Starts

:
1 May 2018, 7:00 AM
Event Ends

:
2 May 2018, 6:00 PM
Event Location:
River Cree Resort and Casino
300 East Lapotac Blvd
Edmonton , Alberta T7X3Y3
Canada