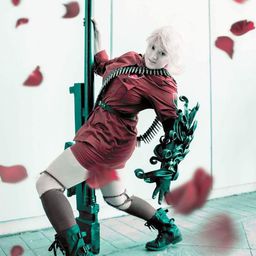 Alix Shackelford known as Trinket in the cosplay world has been cosplaying since 2010. After she rekindled her love of sewing in college she has taken the hobby and ran with it. She loves the stage most of all though and her love of performance has lead her to many costume awards both for craftsmanship and for performance.
Most of her recent work has been done with Bloody Trinkets Cosplay a cosplay competition team that merges her love of sewing and BloodCountess's unique leather and prop work. They have been traveling along the west coast competing for the last few years including competing in the Anime Expo Masquerade as well as for the USA World Cosplay Summit Preliminaries.
Cosplay isn't her only passion, and she fills every other second of her life with roller derby and pole fitness, and she still finds down time to spend with her husband and daughter.
Sessions in which Trinket participates
DoubleTree City Center - Suite D, Spok Falls Ballroom
3:00 PM - 3:45 PM | 45 minutes

Just because someone is wearing an attractive outfit doesn't mean they want someone else's hands on them. Or to be followed around the convention. ...

Panel
DoubleTree City Center - Suite C, Spok Falls Ballroom
10:00 AM - 10:45 AM | 45 minutes

What IS this Masquerade I've been hearing so much about? Short answer: it's a costume/performance contest. For the long answer, this panel will ...

Panel
DoubleTree City Center - Salon V
3:00 PM - 6:00 PM | 3 hours

This time is reserved for trying out costumes in the space, testing music and other effects, and technical judging of the costumes. In addition, Th...

Workshop