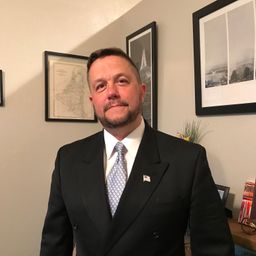 I was born in Honolulu, Hawaii. My family loved adventure and we set off for many moves around the world. These moves included France, the Netherlands, and other points around Europe. We returned to the U. S. in 1989 and I completed high school in North Fort Myers, Florida. After graduation,
I attended Georgia Military College in Milledgeville, Georgia.
I received my commission as an officer in the United States Army and served on both active duty and in the reserves. After many moves for the service and civilian employment, I found the 501st Stormtrooper Legion, Vader's Fist.
I had always been a fan of Star Wars, but this was a group that took that love and passion and made it real. The 501st Legion does so many amazing things with so many charities. That, combined with screen-accurate costumes made the decision to join easy. I completed my first Stormtrooper armor and became an active member in 2001. Now over 17 years I have been in four different garrisons and served on the Legion command staff and my local garrison's command staff.
My latest move has brought me to Pocatello, Idaho, where I am a member of the Timberline Garrison and continue to serve as an active member. I come home to my beautiful wife Rebecca and daughter Maddison, who put up with all my Star Wars stuff daily and support me always.
Sessions in which Dave Anderson participates
Sessions in which Dave Anderson attends
DoubleTree City Center - Suite D, Spok Falls Ballroom
3:00 PM - 3:45 PM | 45 minutes

Just because someone is wearing an attractive outfit doesn't mean they want someone else's hands on them. Or to be followed around the convention. ...

Panel
DoubleTree City Center - Salon V
10:00 AM - 10:45 AM | 45 minutes

Our Fan Guest talks about his organization, the 501st Legion ("Vader's Fist). What do they do, how do they create their photo-accurate costumes, an...

Large Programming