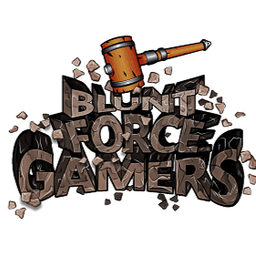 Newest addition to the B.F.G. crew and FNG in the realm of RPG's, The Moniker's talent lies primarily in the areas of War Gaming and Video Gaming, as well as providing all the funny/dumb voices and accents for the podcast. Moniker got his start with gaming early in life playing Crash Bandicoot and Twisted Metal 2, (the latter of which greatly impacted his interests), on his cousin's PlayStation. Since then he's been a huge fan of both Nintendo, particularly The Legend of Zelda, and PlayStation, enjoying everything from Metal Gear Solid, to Dark Souls, to Mortal Kombat and beyond.

While he has played video games all his life, it has only been in within the several years that he has stepped into traditional gaming, being first introduced to Magic: The Gathering while he was in still in high school. After having had his fun with MTG, The Moniker decided to see what other games appealed to him, eventually hearing the mighty roar of Gork, (or Possibly Mork) and embarked on his WAAAGH! across the Milky Way Galaxy....He likes Warhammer 40k.
Since joining up with his fellow Blunt Force Gamers, Moniker has also started into Pathfinder and the world of classic RPG's. While he has much to learn, he hopes to be as good a gamer as the friends who inspired him along the way! Outside of gaming, The Moniker enjoys voice over work (which he hopes to do professionally one day), history, languages, and both listening to and practicing Khoomei. The absolute fucking nerd. He would also like to personally apologize for his impressions of Solid Snake. Yeah, they're bad, but he still enjoys doing them anyhow, Y'know?
Sessions in which The Monicker participates