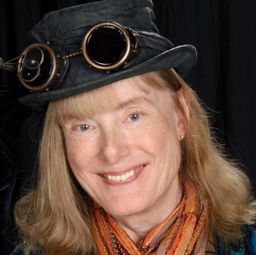 Laurel Anne Hill has authored two award-winning novels:
Heroes Arise
(Komenar Publishing, 2007) and
The Engine Woman's Light
(Sand Hill Review Press, 2017), a gripping spirits-meet-steampunk tale.
The Engine Woman's Light
is the recipient of the 2017 Independent Press Award (steampunk category) and a Kirkus star. Kirkus has placed the novel on its list of the best 100 indie books in 2017 and top six indie teen.
Laurel's published short stories and nonfiction pieces total over forty and have appeared in a variety of anthologies and journalistic media. The fans of HorrorAddicts.net elected her "Most Wicked" in 2011 for her steampunk-horror podcast Flight of Destiny. She is the Literary Stage Manager for the annual San Mateo County Fair in California, a speaker, writing contest judge, and editor.
Sessions auxquelles Laurel Anne Hill participe
DoubleTree City Center - Evergreen
10:00 AM - 10:45 AM | 45 minutes

A private space for aspiring writers to receive critiques from experienced writers and editors. Advance sign-up is required. Contact Elizabeth R...

Workshop
DoubleTree City Center - Parkside II
11:00 AM - 11:45 AM | 45 minutes

Genetic therapies. Health care deserts. Pharmaceutical profiteering. Drug-resistant bacteria. Nursing shortages. What does the future hold for heal...

Panel
DoubleTree City Center - Parkside II
1:00 PM - 1:45 PM | 45 minutes

Steampunk stories are full of aircraft fueled by steam, but would this be viable in space travel? Our panelists will talk about steam technology an...

Panel
DoubleTree City Center - Parkside II
11:00 AM - 11:45 AM | 45 minutes

Steampunk has generated excitement for fans and writers over the past decade or so, but this genre evolves like any other. A look at what's coming ...

Panel