Swancon Not-A-Con
30 April 2022, 9:00 AM - 30 April 2022, 11:00 PM
Tuart Hill, Australia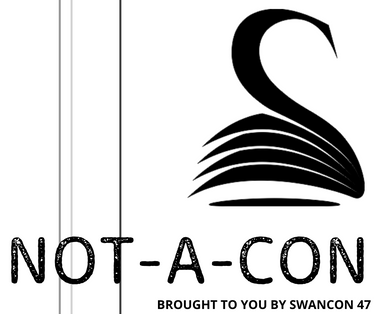 Welcome to the site for Perth's premier Science Fiction and Fantasy convention! Since Swancon 1 in 1976, Swancon has been a multi-day event. But in these Times Of Uncertainty, we've decided on something a bit different for 2022. Regular attendees will recall that we had to cancel Swancon 2020, and reschedule Swancon 2021 with half a day's notice. So in 2022, we're presenting Not-A-Con, a one-day in-person event at SCC Tuart Hill, a three-room accessible venue about 8km north of the city centre served by the 403 and 404 buses (please keep the HTTP error jokes to a dull roar). Membership prices are accordingly much cheaper: $30 full; $50 full-but-I-want-to-pay-more. Memberships are limited to about 130 due to venue size.
This convention is brought to you by the Swancon 47 (2023) committee. Later in the year we'll have a Not-A-Con programme to share with you, and it is our fervent hope that things will have returned to normal by 2023.
Come along to share in our love for Science Fiction and Fantasy in print, TV, art, gaming and other forms!
EVERYBODY WELCOME!
We promise you don't have to have been to the previous 46 Swancons to enjoy Not-A-Con.

Add yourself to our mailing list, or visit us on Facebook, or buy our merch on Redbubble!



We wish to acknowledge the traditional custodians of the land we are meeting on, the Whadjuk (Perth region) people. We wish to acknowledge and respect their continuing culture and the contribution they make to the life of this city and this region. We give our respect to the Elders, past, present and emerging.
Event Starts:
30 April 2022, 9:00 AM
Event Ends:
30 April 2022, 11:00 PM
Venue:
Duxton Hotel
1 St Georges Terrace
Perth, WA 6000
Australia