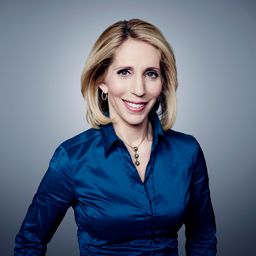 Dana Bash
Chief Political Correspondent
CNN
Dana Bash is CNN's chief political correspondent based in Washington, D.C. and serves as the network's lead reporter covering the Republican field of 2016 presidential candidates in addition to covering the activities of both the U.S. House of Representatives and the U.S. Senate.

As the network's chief political correspondent, Bash has played a key role in CNN's 2016 presidential primary debates, serving as a questioner in six of the network's seven primetime primary debates on both sides of the aisle. Bash also serves as a co-anchor on set in the CNN Election Center for all election night specials and is the primary fill-in anchor for Jake Tapper on CNN's premier political show, State of the Union.

As part of her coverage of the 2016 presidential campaigns, Bash has conducted sit-down interviews with majority of the candidates including Donald Trump, Senators Ted Cruz, Marco Rubio, and Bernie Sanders, and Governors Jeb Bush and John Kasich. In addition, Bash secured several extensive interviews with the candidates' families and spouses including the first interview with Kasich's wife and daughters; Heidi Cruz, exploring her role in her husband's campaign; Governor Scott Walker's two sons before announcing his presidential bid; and Frank Fiorina, husband of the only woman that ran for the Republican nomination.

Bash also continues to be instrumental to the network's Capitol Hill coverage. In 2015, she broke news on live television that House Majority Leader Kevin McCarthy would not be running for Speaker of the House and also conducted Speaker John Boehner's final interview on his last day in office. Bash also served as the lead correspondent covering former Secretary of State Hillary Clinton's 11-hour testimony before the House Select Committee on Benghazi.

Bash played a key role in the network's 2014 midterm Election Night in America programming, America's Choice 2012 and Emmy Award-winning election night coverage, the Peabody Award-winning America Votes 2008 programming, 2006 mid-term election coverage and 2004 presidential campaign.

Bash was part of the duo to win the Joan S. Barone Award for excellence in congressional reporting on a STOCK Act loophole and has also earned the prestigious Everett McKinley Dirksen for Distinguished Reporting of Congress Award from the National Press Foundation an unprecedented three times.

Prior to covering Congress and the 2008 campaign, Bash reported as CNN's White House correspondent and served as the Capitol Hill producer for CNN, editor and producer on several of the network's public affairs shows.

Bash graduated cum laude with her bachelor's degree in political communications from The George Washington University.
Sessions in which Dana Bash participates