GeoIgnite Online 2020: Canada's National Virtual Geospatial Event
22 July 2020, 10:00 AM - 24 July 2020, 3:00 PM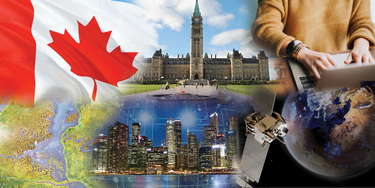 How To Login To Your Virtual Session
1) Go to https://2020.geoignite.ca
2) Login to your personal account by clicking the login button in the top right corner. If you have never done this before, please enter the email with which you have registered and click the forgot password button.
3) Visit the conference schedule
4) Click on the session you wish to attend (friendly reminder that all sessions are in Eastern Time)
5) Click on the blue Join Zoom button on the left of the page
Having Trouble Logging Into The GeoIgnite Website
Make sure you click the "Log In" button on the top right corner of the website homepage. If you do not see it, we recommend you do not use Internet Explorer but instead Chrome. Alternatively, you can login directly via https://2020.geoignite.ca/sites/gogeomatics/en/geoignite2020/grenadine_login
GeoIgnite Online 2020: Leadership In Times Of Disruption
The GeoIgnite 2020 Conference committee invites the Canadian and International geospatial community to take part and engage in our annual conference during challenging times. This year's theme, "Leadership in Times of Disruption" is bringing together government and industry for innovative programming and important updates on our sector.
GeoIgnite is going virtual for 2020 which will allow our audience to expand exponentially. C-level participation will continue with the addition of more managers and technical specialists from Canada and abroad. Covid-19 will not stop the Canadian Geospatial sector moving forward together!
GeoIgnite welcomes Éric Loubier - Director General of the Canada Centre for Mapping and Earth Observation (CCMEO) - as our keynote speaker on July 22nd. The conference will also feature talks from government representative including professionals with: Natural Resources Canada, Agriculture Canada, Statistics Canada, and the Department of Fisheries and Oceans.
GeoIgnite would like to thank all our sponsors for their wonderfully strong support from Canada's geospatial industry. Our 2020 gold sponsors are MAXAR, and MDA. The 2020 GeoIgnite silver sponsors are Quantum Geospatial, and Deploy Solutions.
---
About
GeoIgnite Online 2020: Canada's National Virtual Geospatial Event
Event Starts:
22 July 2020, 10:00 AM
Event Ends:
24 July 2020, 3:00 PM
Event Location:
Virtual Meeting Space