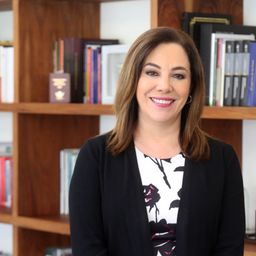 Blanca Lilia Ibarra Cadena
President Commissioner
National Institute for Transparency Access to Information and Personal Data Protection
She holds a bachelor's degree in Communication and Journalism with a master's degree in Public Administration.
She has a 30-year career experience in the media by occupying numerous managerial positions in press, radio and television. She was General Director of the Television Channel of the Mexican Congress, the General Director for Social Communication of the Local Congress in Puebla and Director of Information for Local States of the Presidency of Mexico.
She held positions like Commissioner President of the Commission for Access to Public Information and Personal Data Protection of the State of Puebla President and during this job she served as Coordinator for the Social Communication Commission and Coordinator of the Central Region of the Mexican Conference for Access to Public Information. Likewise, she was President of the Transparency Commission of the Municipality of Puebla; Director of the Documentation Center at the Coordination of Information, Documentation and Transparency of the Federal Electoral Tribunal in Mexico.
In 2018, she was elected by the Senate of Mexico as Commissioner of the National Institute for Transparency, Access to Information and Personal Data Protection and, since December 2020, she its President Commissioner and President of the National Council of the National Transparency System. At the international level, she is president of the International Conference for Information Commissioners (ICIC), the Network for Transparency and Access to Information (RTA) and Global Privacy Assembly (GPA).
Sessions in which Blanca Lilia Ibarra Cadena participates