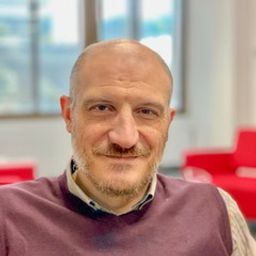 Matteo Melideo
Research & Innovation Manager
Since 1997 I have been working at the Research & Innovation Dept. of Engineering Ingegneria Informatica S.p.A. where I am currently the head of the research area named IT Systems for eHealth. In this role other than leading a team of more than 20 researchers, I am also responsible for projects and program management, business development and bid management.
Along the 20 years of experience as software engineer and project manager in R&D Projects (I am PMP and Prince2 certified), I worked in research topics about Workflow Management Systems, Component-Based Software Engineering, Service Engineering, Open Source Software Business Models and development processes.
In the last 12 years, I've dedicated most of the professional time to the research and innovation topics concerning lifestyle, wellness and healthcare with a special focus on eHealth and mHealth solutions for the remote monitoring of chronic diseases, their prevention and the patients' empowerment and coaching.
I have also established a large network of contacts at European and National level with many universities, research centers, industries and SME as well as with European Commission members and initiatives.
During my research activities, I was also co-author of papers and book chapters for journal, as well as speaker and chair at conferences' workshops.
I have also acted as an expert reviewer for the EU Commission and since 2018 member of the EHTEL Board of Directors.
I am also member of the expert group of the Independent and connected living WG of the EU initiative named IDIH – International Digital Health Cooperation for Preventive, Integrated, Independent and Inclusive Living
Sessions in which Matteo Melideo participates