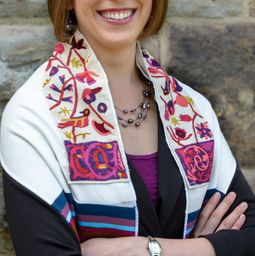 Keren Gorban
Temple Sinai. Pittsburgh, PA
Rabbi Keren Gorban has been the Associate Rabbi of Temple Sinai in Pittsburgh since 2015. In addition to leading Shabbat and holiday services and officiating at lifecycle events, Rabbi Gorban oversees both youth and adult education through Temple Sinai's Center for Jewish Learning and works closely with the Pride Tribe and Disabilities Inclusion Task Force. She also coordinates the Pittsburgh Area Reform Clergy Introduction to Judaism course.
Rabbi Gorban earned her B.A. with High Honors in Health: Science, Society and Policy from Brandeis University, focusing on the intersection between health and religion. She received her M.A. in Hebrew Letters and rabbinic ordination at Hebrew Union College in Los Angeles, and earned an award for Excellence in Bible for her work on Psalm 77. She was also one of the leaders of an annual interfaith retreat for students of six Los Angeles area seminaries. Additionally, she just completed an M.A. in Religious Education at Hebrew Union College in New York, focusing on the dynamic tension between love and literacy in Jewish education.
Before coming to Pittsburgh, Rabbi Gorban served as the Assistant Rabbi at Temple Sinai in Denver. As a student rabbi, she served student pulpits in Montana, British Columbia, and Arizona; taught Jewish History as a teaching assistant at the University of Southern California; and worked as a chaplain in nursing homes in California and at a hospital in Denver.
In addition to her rabbinic and academic interests, Rabbi Gorban enjoys hiking, reading, and doing puzzles of all sorts. She lives in Squirrel Hill with her two cats, Panther and Flower, both of whom have learned to do tricks.
Sessions in which Keren Gorban participates
Hilton Cincinnati Netherland Plaza - Salon HI
Workshop
Ruth Alpers, Cincinnati Children's Hospital Medical Center (Participant)
Melissa Zalkin Stollman, Union for Reform Judaism (Participant)
Keren Gorban, Temple Sinai. Pittsburgh, PA (Participant)
Stephanie Kramer, Congregation Shomrei Torah, Santa Rosa, CA (Participant)