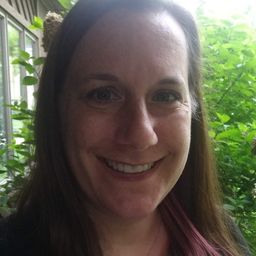 Brigitte Rosenberg
Rabbi
United Hebrew Congregation, St. Louis, MO
Rabbi Brigitte Rosenberg joined United Hebrew's rabbinic team in 2004 and was installed as the fifth senior rabbi of UH in 2011. She is a tireless leader—one to whom people turn for counsel, education, and insights.
Raised in Houston, Rabbi Rosenberg is a graduate of Boston University, with a BA in Religion and Culture. She received her Master of Arts in Hebrew Letters (MAHL) and rabbinical ordination from Hebrew Union College-Jewish Institute of Religion (Cincinnati) in 2001.
As a product of NFTY, the Reform Jewish youth movement, and Union for Reform Judaism (URJ) summer camps, Rabbi Rosenberg understands the power of transformative Jewish experiences and the power of relationships. Her experiences as a teen—in her home congregation, at summer camp, and in youth group—led to her decision to become a rabbi. "I was inspired by the many rabbis who were part of my journey, who shared their love and passion for Judaism with me. These rabbis inspired me to want to teach, to encourage, to inspire a love of tradition, mitzvot, and learning in others—to instill a love of being Jewish." For Rabbi Rosenberg, the synagogue should be a home away from home for all Jews. It should be that place where you can "let your hair down" and be accepted for who you are—a place to be your best self.
Rabbi Rosenberg believes that healthy, vibrant synagogues are best when part of healthy, vibrant Jewish communities, and feels strongly that we need to work together continuously for the greater good of a strong, vibrant Jewish community in St. Louis. As such, Rabbi Rosenberg is a leader locally and on a national basis. She serves on the Board of Trustees of the Jewish Federation of St. Louis and is the current chair of the Jewish Fund for Human Needs. She is a past president of the St. Louis Rabbinical Association and has served on the boards of the St. Louis Hillel Foundation, Nishmah–the St. Louis Jewish Women's Project, and as a council member of the Jewish Community Relations Council (JCRC). Rabbi Rosenberg was a founding committee member of Israel Bound, the St. Louis Teen Israel Experience, now in its 10th year. Nationally, she has served on the board and numerous committees of the Central Conference of American Rabbis (CCAR) and chaired its 2015 convention. She has been involved with AIPAC (American Israel Public Affairs Committee). Rabbi Rosenberg was a Brickner Fellow and a participant in the STAR Peer program.
Rabbi Rosenberg is married to H. Lee Rosenberg and they have three children, Zoë, Joseph, and Sadie.
Sessions in which Brigitte Rosenberg participates
Hilton Cincinnati Netherland Plaza - Salon HI
Workshop
Brigitte Rosenberg, United Hebrew Congregation, St. Louis, MO (Participant)
Chen Ben Or Tsfoni, Beit Samueli, Center for Reform and Israeli Judaism, Raanana, Israel (Participant)
Josh Weinberg, URJ / ARZA (Participant)
Beth Singer, Congregation Emanu-El, San Francisco, CA (Participant)
Ofek Meir, Maram (& CEO of the Leo Baeck Education Center) (Participant)