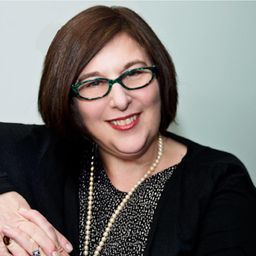 Rabbi Denise Eger
Rabbi
Congregation Kol Ami
Rabbi Denise L. Eger is the founding rabbi of Congregation Kol Ami, West Hollywood's Reform Synagogue. Rabbi Eger is the immediate past-president of the Central Conference of American Rabbis. She also is past-president of the Board of Rabbis of Southern California, the first female rabbi to serve in the post. Recently honored by the City of Los Angeles, she was also named by the
Huffington Post
as the Most Inspirational GLBT Clergy Person in America. In 2010 she was named by
Forward Magazine
as one of the top 50 women rabbis in North America. In 2008,
Forward Magazine
as one of the Forward 50—the 50 most influential Jewish leaders in the United States for her work on GLBT rights. Ordained at Hebrew Union College-Jewish Institute of Religion, she is also an alumna of the University of Southern California.
A noted speaker and scholar in residence, she is the author of numerous articles appearing in the LA Times, the Jewish Journal and Forward Magazine. Eger has written extensively contributing to numerous anthologies include two chapters in the book The Sacred Encounter: Jewish Perspectives on Sexuality. Her most recent publications include chapters in Sacred Calling, Seven Days Many Voices, Lights in the Forest all published by the CCAR Press. She posts regularly on her blog: Walking Humbly, Seeking Justice, Living with Hope at www.rabbieger.wordpress.com .
Rabbi Eger is married to Rabbi Eleanor Steinman, associate rabbi and Educator of Temple Beth Hillel in Valley Village, CA. Eger is the proud mom of Benjamin who lives and works in the San Francisco Bay Area.
Sessions auxquelles Rabbi Denise Eger participe

Loews Atlanta Hotel - Ellington Ballroom - Salon ABCD
7:15 PM - 8:45 PM | 1 heure 30 minutes

Welcome: Denise L. Eger Motzi: Our Local Rabbis and Convention Committee Presentation to Denise L. Eger, CCAR President, 2015-...

Meal
Loews Atlanta Hotel - Mercer Ballroom
8:15 PM - 9:15 PM | 1 heure

Introduction: Denise L. Eger Cornell William Brooks, NAACP President Cornell William Brooks is the president and CEO of...

Talk