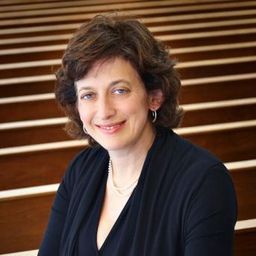 Lisa Greene
Rabbi
North Shore Congregation Israel
My father, Rabbi Barry H. Greene (z"l), taught through example that there is a meaningful place in a synagogue community for each person who desires it.  My role as a rabbi is to help people find that meaningful place, connecting people in myriad ways.

My rabbinate is about a joy of teaching, love of informal education, and fascination with ritual, old and new.  I am always seeking ways to empower our people to make community and make our community their own by creating opportunities for them to learn, make a difference in our world, and create sacred moments.

Our Adult B'nei Mitzvah program, begun in 2000, is one of my proudest achievements and collaborations, bringing learning and community together. The members of each class learn from Torah and from one another's lives and create strong bonds. Women and men stand aside one another, as do Jews-by-Choice and born Jews, and adults whose ages span decades.

Chai @ NSCI, our Women's Seder and Women's Retreat are other areas that bring learning and community together. Each of these initiatives allows us to tap our members on the shoulder and ask my favorite questions: What would you like to do in our community to make it your community? How would you like to become involved here at NSCI?

I grew up in South Orange, New Jersey. After graduating from the Wharton School of the University of Pennsylvania, I worked as a securities analyst at Lazard Frères Asset Management. During rabbinic studies at the Hebrew Union College-Jewish Institute of Religion in New York City, I served congregations in Manhattan, Anchorage, Alaska and Fort Smith, Arkansas, and served as a visiting rabbinic student in then nascent Jewish communities in Ukraine. After ordination, I moved to Chicago to serve Temple Jeremiah before coming to NSCI in 1999.

In our greater Jewish community, I have been honored to teach our youth on the faculty of Olin-Sang-Ruby Union Institute (OSRUI) for many summers and as Rabbinic Advisor to NFTY-CAR for a decade. As a board member of the Jewish Council on Urban Affairs (JCUA), I was privileged to try to bring Jewish values to learning and action impacting Chicago's diverse communities. Over the years I have served the Central Conference of American Rabbis (CCAR), the Women's Rabbinic Network and the Reform Pension Board.

My children, Noa, David and Talia, love NSCI and our community.  All 3 began their Jewish education in our preschool and are the best sources for hiding places in the building and the best food at the Oneg Shabbat.  Just ask them!
Sessions auxquelles Lisa Greene participe
Loews Atlanta Hotel - Ellington Ballroom - Salon F
10:30 AM - 12:00 PM | 1 heure 30 minutes
Workshop