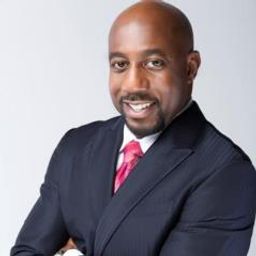 Reverend Raphael Warnock PhD
Senior Pastor
The Historic Ebenezer Baptist Church
The Rev. Dr. Raphael Gamaliel Warnock has served, since 2005, as the Senior Pastor of the historic Ebenezer Baptist Church, spiritual home of The Rev. Dr. Martin Luther King, Jr. The son of two Pentecostal pastors, Dr. Warnock responded to the call to ministry at a very early age, and became, at age 35, the fifth and the youngest person ever called to the senior pastorate of Ebenezer Church, founded in 1886. Yet, before coming to Ebenezer, "America's Freedom Church," Dr. Warnock was blessed to study and serve within the pastoral ranks of leading congregations also known for their deep spiritual roots and strong public witness. He began as an intern at the Sixth Avenue Baptist Church of Birmingham, Alabama, where he was ordained by the Rev. Dr. John T. Porter, who himself had served many years earlier as Martin Luther King, Jr.'s pulpit assistant at Dexter Avenue Baptist Church in Montgomery, Alabama and later under the tutelage of Martin Luther King, Sr. at Ebenezer. From there, he served for six years as the Youth Pastor and four years as Assistant Pastor at the historic Abyssinian Baptist Church of New York City – also one of the nation's leading congregations. Finally, before taking the helm of Ebenezer, Pastor Warnock immersed himself further in the challenges of urban ministry, in the 21st century, while serving for 4 ½ years as the Senior Pastor of Baltimore's Douglas Memorial Community Church, also a spiritual base of social activism.

Under Pastor Warnock's leadership, more than 4,000 new members have joined Ebenezer, enhancing the Church's legacy of social activism with both spiritual and numerical growth. Several new ministries have been launched, including Worship on Wednesdays (WOW), EbenezerFest, Cutting Through Crisis, Faith & Fitness, Jericho Lounge, Young Adult Ministry and After Midnight (A Watch Night Worship Celebration). The Church's income has continued to grow, even during the Great Recession, making possible over $5 million in capital improvements to the Educational Building and the Horizon Sanctuary, including HVAC systems, upgrades to the roof and enhancements in sound and lighting systems. Additionally, our pastor led us in a successful fundraising campaign to build the $8.5 million Martin Luther King, Sr. Community Resources Complex. The brand new building houses the Church's administrative offices, the fellowship hall, classrooms, meeting rooms, a Cyber Café and an MLK Collaborative of four nonprofit partners, including Operation HOPE, Casey Family Programs, The Center for Working Families and nsoro Educational Foundation, all engaged together in helping individuals and families to improve their own life outcomes and live healthier and more prosperous lives.

As a pastor, Rev. Warnock sees the whole community as his parish. Accordingly, he has defended voting rights in his own state of Georgia. And when, in 2006, the State of Louisiana failed to protect the voting rights of recent Katrina evacuees, he led a "Freedom Caravan" of citizens back to New Orleans to vote. Dr. Warnock has addressed his ministry to urban men through a barbershop ministry called "Cutting Thru Crisis" and through a series of Bible Studies held in a local car wash. Newsweek magazine covered this example of his unconventional approach to ministry in an article entitled, "For Those Who've Fallen, Salvation Amid the Suds." Dr. Warnock has taken on the contradictions in our criminal justice system through his preaching and through his fierce public advocacy. Along with many others, he stood up for Troy Davis, Trayvon Martin and Genarlow Wilson, a high school student ensnared by a poorly written law and sentenced to 10 years in prison. Wilson was released on appeal and has since graduated from Morehouse College. His bold and visionary leadership has been further demonstrated through his public policy work with The National Black Leadership Commission on AIDS and his ongoing efforts to provide tuition support for young people pursuing post-secondary education. Dr. Warnock is a graduate of the Leadership Program sponsored by the Greater Baltimore Committee, a graduate of the Summer Leadership Institute of Harvard University and a graduate of Leadership Atlanta.
The Rev. Dr. Warnock graduated from Morehouse College cum laude in 1991, receiving the B.A. degree in psychology. He also holds a Master of Divinity (M.Div.) degree from Union Theological Seminary, New York City, from which he graduated with honors and distinctions. Seeing his pastoral work as tied to the ministry of scholarship and the life of the mind, Rev. Warnock continued his graduate studies at Union, receiving a Master of Philosophy (M.Phil.) degree and a Doctor of Philosophy (Ph.D.) degree in the field of systematic theology. He is a member of Alpha Phi Alpha Fraternity, Inc., the 100 Black Men of Atlanta, Inc. and a Lifetime Member of the NAACP.

Rev. Warnock's activism was honored in 2016, as his footprints were placed on the International Civil Rights Walk of Fame. Among other honors, Rev. Warnock has been recognized as one of "Atlanta's 55 Most Powerful" by Atlanta magazine, one of the "New Kingdom Voices" by Gospel Today magazine, one of "God's Trombones" by the Rainbow Push Coalition, a "Good Shepherd" by Associated Black Charities, one of the "Chosen Pastors" by The Gospel Choice Awards, "A Man of Influence" by the Atlanta Business League, one of The Root 100 in 2010, 2011, 2012 and 2013 (TheRoot.com a division of the Washington Post), one of the "Top 10 Most Influential Black Ministers" by Loop 21, one of the "20 Top African American Church Leaders" by TheRoot.com and he has received the Reverend Dr. William A. Jones Justice Award from the National Action Network. He is a National TRIO Achiever Award recipient and has been honored by induction into the Martin Luther King, Jr. Board of Preachers. As an opinion leader, his perspective has been sought out by electronic and print media, locally, nationally and internationally. His work has been featured on CNN, the CBS Evening News, the Huffington Post and in the Atlanta Journal and Constitution which hailed him "a leader among Atlanta – and national – clergy, a fitting heir to the mantle once worn by The Reverend Dr. Martin Luther King, Jr." At President Barack and First Lady Michelle Obama's request, Dr. Warnock delivered the closing prayer at the 2013 Inaugural Prayer Service held at the National Cathedral and delivered the sermon for the Annual White House Prayer breakfast in March 2016.

Rev. Warnock has preached his message of salvation and liberation in such places as The Riverside Church of New York and the International Festival of Homiletics. But he is just as comfortable in a small, country church or an urban storefront. His first book is entitled, The Divided Mind of the Black Church; Theology, Piety & Public Witness (NYU Press, 2014).

Rev. Warnock is married to Mrs. Oulèye Ndoye Warnock and the couple has one daughter, Chloé.
Sessions auxquelles Reverend Raphael Warnock PhD participe
Loews Atlanta Hotel - Mercer Ballroom
Panel
Mayor Kasim Reed (Participant.e)
Reverend Natosha Reid Rice, Habitat for Humanity International AND Ebenezer Baptist Church (Participant.e)
Reverend Raphael Warnock PhD, The Historic Ebenezer Baptist Church (Participant.e)
With profound gratitude, the CCAR thanks the Molly Blank Fund of the Arthur M. Blank Family Foundation for underwriting the CCAR's engagement w...