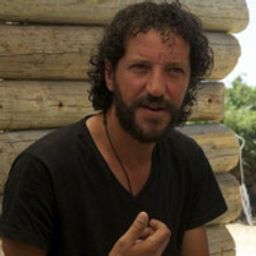 Having just finished his book, Painful Hope, Ali Abu Awwad is today a leading Palestinian activist teaching his countrymen non-violent resistance, and reaching out to Jewish Israelis at the heart of the conflict.

Jailed by Israel during the First Intifada for stone throwing and illegal political activity, he demanded to see his mother who was also imprisoned. During the course of a 17-day hunger strike, he learned the tremendous power of non-violence. Through voracious reading while still in jail, he came under the influence of Gandhi, Martin Luther King, and Mandela.

During the Second Intifada, Ali was shot by an Israeli in a drive-by shooting, and was evacuated to Saudi Arabia for medical treatment. While in the hospital, he received word that his beloved brother had been shot and killed by an Israeli soldier at a checkpoint. It was in the context of the Bereaved Families Forum that brings together people from both sides who have lost loved ones in the conflict, that he began to learn how to channel his pain and anger not only into nonviolent resistance, but also into reaching over the chasm that divides between Palestinians and Israelis.

Ali has toured the world many times over, telling his riveting story of pain, frustration, bereavement and personal transformation. (A simple Goggle search of his name will yield hundreds of articles and videos).
 
Sessions auxquelles Ali Abu Awwad participe
Loews Atlanta Hotel - Mercer Ballroom
9:00 AM - 10:15 AM | 1 heure 15 minutes

Welcome by American Reform Zionist Association and Israel Ministry of Tourism With profound gratitude, the CCAR thanks the...

Workshop