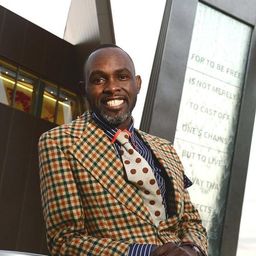 Derreck Kayongo
CEO
The Center for Civil and Human Rights
Derreck Kayongo is the Chief Executive Officer of The National Center for Civil and Human Rights, Inc. He and his family fled a civil war in Uganda and settled in Kenya as refugees. He then found his way to the U.S. where he became a successful entrepreneur as the founder of the Global Soap Project, a program which takes partially used soap from hotels, recycles them into new bars of soap, and redistributes the new bars to vulnerable populations around the world.
Kayongo has been featured as a TEDx speaker and at several corporate and university forums. He recently coauthored, "The Roadmap to Success," with Dr. Deepak Chopra and Dr. Ken Blanchard. Within this work, Kayongo focuses on Understanding the Instructive Power of Failure When Building Successful Ventures.
Kayongo has also been a guest on several news programs including the Christiana Amanpour Show and BBCs Focus on Africa. Currently he's at work on a new book, scheduled to be released in 2016, that focuses on how he found his calling in life as a former refugee.
Kayongo is a graduate of the prestigious Fletcher school of Law and Diplomacy at Tufts University.
Sessions auxquelles Derreck Kayongo participe
Atlanta - Museum
3:00 PM - 5:00 PM | 2 heures
Off-site Trip