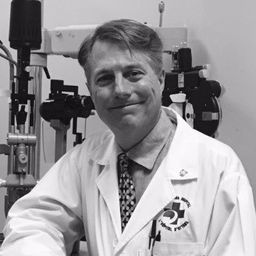 Dr. Buhrmann is a glaucoma consultant at the University of Ottawa Eye Institute with a practice focus on the management and surgical treatment of glaucoma, cataract and complex cataract. Over the last 4 years he spearheaded the fundraising and development of a new Glaucoma Center at the University of Ottawa Eye Institute scheduled to open in the Spring of 2020.

Dr Buhrmann received his medical school and ophthalmology residency training at McGill University. He completed a fellowship in preventive ophthalmology and a fellowship in glaucoma with Harry Quigley at the Wilmer Ophthalmological Institute at Johns Hopkins University where he also obtained a Master of Public Health and a PhD in Clinical Epidemiology.
Blindness prevention is a special interest of Dr Buhrmann. From 1999 to 2001 he served as project director for the Kongwa Eye Project and Kongwa Investigation of Mortality and Sight in central Tanzania. In 2002 he founded the Canadian Association for Public Health and Global Ophthalmology (CAPHGO) where he continues to serve on the executive. He was lead author of Foundations for a Canadian Vision Health Strategy produced for the National Coalition for Vision Health in 2007. Dr. Buhrmann has spent 2 years working in Africa in Zimbabwe, Sierra Leone, Cameroon and Tanzania. He supervises the International Ophthalmology Electives Program at the University of Ottawa Eye Institute which provides senior residents with a subsidized three-week hands-on training in tropical ophthalmology and manual small incision cataract surgery in partnership with the Srikiran Institute of Ophthalmology in Andhra Pradesh, India.
Dr Buhrmann is passionate about innovation in surgical teaching. He is a repeat winner of resident surgical teaching awards and is a sought-after mentor for surgical skills transfer courses nationally and internationally. He is the founding director of the Ophthalmic Surgical Simulation Center (OSSC) at the Ottawa Eye Institute. Over the last decade Dr Buhrmann has been developing and teaching a rigorous competency-by-design pre-OR surgical skills training program for ophthalmology residents. The University of Ottawa has recognized his work with an Innovation in Medical Education Award.
He is a long serving member of the Annual Meeting Program Planning Committee for the Canadian Ophthalmological Society and has published numerous peer-reviewed articles and several book chapters.
Financial disclosure: Dr. Buhrmann has/had an affiliation (financial or otherwise) with a commercial organization:
1.) Allergen
Sessions in which Ralf R. Buhrmann, participates
5:30 PM - 7:00 PM | 1 hour 30 minutes