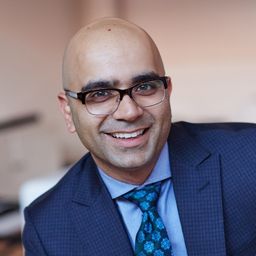 Netan Choudhry, MD, FRCSC
Dr. Netan Choudhry is the founder and medical director of the Vitreous Retina Macula Specialists of Toronto, a premier academic retina practice. He is internationally recognized Vitreoretinal Surgeon with affiliations at both the University of Toronto and Harvard Medical School and is a faculty member at the Cleveland Clinic Canada. He is universally recognized as a thought leader in retinal imaging and the diagnosis and treatment of rare disorders of the retina and vitreous.

Dr. Choudhry was the first to pioneer OCT imaging of the peripheral retina and is actively developing novel devices for imaging the retina and vitreous using non-invasive technology. He has published in the world's most read/indexed journals including: The New England Journal of Medicine, the Lancet, Ophthalmology and the Retina Journal. Dr. Choudhry's innovative work in the field of retina has also been published on the covers of numerous journals further earning him the distinction of a pioneer in retinal imaging.
Dr. Choudhry is actively involved in medical education at the University of Toronto Department of Ophthalmology & Vision Sciences and he is also a faculty member for the Massachusetts Eye & Ear Infirmary Harvard Medical School Annual Vitreoretinal Surgery Fellows course. He has been an invited speaker at over 75 international conferences and symposia. Dr. Choudhry has published several book chapters in retinal medicine and wide-field imaging. In addition, he has also received research grants to investigate: Diabetic retinopathy, Age-Related Macular Degeneration, Macular holes/puckers and uncommon conditions such as Retinitis Pigmentosa and Macular Telegiectasia.
Dr. Choudhry has served on the board of directors of the American Society of Retina Specialists (ASRS) and the CNIB diabetic retinopathy & vision loss project. He has also worked as the program chair for the Canadian Retina Society and is on the Retina Section program committee for the Association for Vision in Research & Ophthalmology (ARVO).
Financial disclosure: I have/had an affiliation (financial or otherwise) with a commercial organization:
AbbVie/Allergan
Apellis
Bayer
Carl Zeiss Meditec
Johnson & Johnson
Hoffman La Roche
Optos PLC
Topcon
Viatris
Sessions in which Netan Choudhry, MD, FRCSC participates
5:30 PM - 7:00 PM | 1 hour 30 minutes

Learning ObjectivesAt the end of this session, participants will be able to:Identify retinal imaging feat...