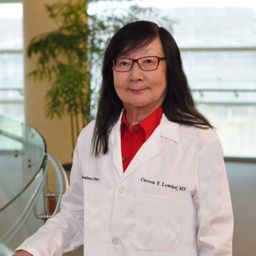 Careen Lowder
Keynote Speaker | Conférencière invitée
Keynote Speaker
Careen Lowder has been a member of the Professional Staff of the Cleveland Clinic Cole Eye Institute since 1986 when she started the Uveitis Service in the Department of Ophthalmology. She obtained her MD (1978) and PhD (1975) degrees from Case Western Reserve University in Cleveland, Ohio. She completed her residency in ophthalmology at the Cleveland Clinic (1982) and a fellowship in uveitis at the FI Proctor Foundation at University of California San Francisco (1982-1984) and a fellowship in Ophthalmic Pathology at University of California San Francisco Department of Ophthalmology (1983-1984).
She received the Life Achievement Honor Award from the American Academy of Ophthalmology in 2016, and she is a frequent recipient of the Teacher of the Year award at the Cleveland Clinic Cole Eye Institute, most recently for 3 subsequent years (2015, 2016, 2017). She has been on the Best Doctors of America list every year since 1996 – 2019. She has over 175 peer review publications and is recognized as a leader in her field of uveitis. She was the Principal Investigator in numerous clinical trials and was the first author of the report on the dexamethasone implant trial.
Dr. Lowder served as president of the Cleveland Ophthalmological Society (2001 – 2003), as president of the Panamerican Society of Ocular Inflammatory Diseases from 1999 – 2012 and she is now the Executive Secretary of the Society. She served as Vice President of the International Uveitis Study Group and is currently a member of the International Council of the International Ocular Inflammation Society.
Financial disclosure: Dr. Lowder does not have any affiliation (financial or otherwise) with a commercial organization.
Sessions in which Careen Lowder participates
Stephanie Dotchin (Moderator)
Joshua C. Teichman (Moderator)
Jean Deschênes (Moderator)
Jim Farmer (Moderator)
Navdeep Nijhawan (Moderator)
Justin Mora, Keynote Speaker (Keynote speaker)
Ramesh Kekunnaya, Keynote Speaker (Keynote speaker)
Thomas Kohnen, Keynote Speaker (Keynote speaker)
Graham Barrett, Keynote Speaker (Keynote speaker)
Yuri McKee, Keynote Speaker (Keynote speaker)
Careen Lowder, Keynote Speaker (Keynote speaker)
Hardeep Mudhar, Keynote Speaker (Keynote speaker)
Jill Foster, Keynote Speaker (Keynote speaker)
Mona Harissi-Dagher (Moderator)
Keynote Speaker | Conférencier invité
Careen Lowder, Keynote Speaker (Keynote speaker)
Careen Lowder, Keynote Speaker (Keynote speaker)
Jean Deschênes (Moderator)
Zainab Khan (Moderator)
Keynote Speaker | Conférencier invité
Careen Lowder, Keynote Speaker (Keynote speaker)
Keynote Speaker | Conférencier invité
Careen Lowder, Keynote Speaker (Speaker)
Discussion
Zainab Khan (Moderator)
Jean Deschênes (Moderator)
Chloe Gottlieb (Panelist)
Careen Lowder, Keynote Speaker (Panelist)
Chloe Gottlieb (Moderator)
Careen Lowder, Keynote Speaker (Keynote speaker)
Jean Deschênes (Moderator)
Keynote Speaker | Conférencier invité
Careen Lowder, Keynote Speaker (Keynote speaker)