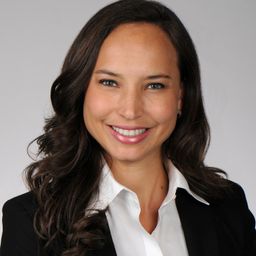 Karolinne Maia Rocha M.D, Ph.D was born in Maringa, Brazil. Dr. Rocha received her medical degree from the State University of Londrina (UEL) in 2002 followed by residency training in ophthalmology at the Federal University of São Paulo (UNIFESP-EPM), and was certified by the Brazilian Council of Ophthalmology in 2005. Subsequently, she completed her fellowship and PhD thesis "Optical aberrations in pseudophakia and cataract", also at UNIFESP. She completed her second Ophthalmology residency at the Cleveland Clinic Foundation, Cole Eye Institute in Cleveland, Ohio. Dr. Rocha completed her postdoctoral fellowship in Cornea & Refractive Surgery at the Cleveland Clinic in 2009 where she worked intimately with adaptive optics technology. Dr. Rocha completed a second postdoctoral fellowship in Cornea & Refractive Surgery at Emory University in 2010 where she played roles in the lead investigational studies on corneal cross-linking and topography-guided laser ablation.
Dr. Rocha joined the faculty of Medical University of South Carolina, Storm Eye Institute in Charleston, South Carolina in 2014. She is currently the director of the Cornea & Refractive Surgery division, and serves as the Cornea & Refractive Surgery fellowship program director.
Dr. Rocha is active in clinical research, having published over 250 scientific works including peer reviewed publications, book chapters, review articles and abstracts in society meetings. She serves on the program committee for the AAO Refractive Surgery Basic and Clinical Science Course (BCSC) and the ASCRS Cornea clinical committee.
As a member of theexecutive subcommittee of the ISRS International Council, Dr. Rocha is active in teaching at national and internationalconferences. She has served as a course instructor at the AAO Laser Refractive Skills Transfer Course since 2009 and teaches courses on Optics, Presbyopia, Corneal Topography, and Complex cataract surgery. Dr. Rocha is an Associate Editor for the Journal of Refractive Surgery (JRS). Her research continues to focus on intraocular lenses, aberrations, ectasia, pseudoaccommodation, and presbyopia.
Dr. Rocha has received awards and distinctions for excellence in Ophthalmology including the the American Academy of Ophthalmology's Achievement Award in 2012, the International Society of Refractive Surgery Waring Memorial Award in 2016, the Cleveland Clinic Lerner College of Medicine Teaching Excellence Recognition Award in 2013, and the American Academy of Ophthalmology's Senior Achievement Award in 2019. She has been recognized as a "Top Ophthalmologist and Leading Physician of the World", included in the Power List 2017, voted by thirty-six thousand readers of The Ophthalmologist.
Dr. Rocha is married to George O. Waring IV and she enjoys spending time with their two children, Maia Rocha Waring and George O. Waring V. She loves outdoors, hiking, the ocean and Brazilian jazz (Bossa Nova).
Financial disclosure: Dr. Rocha has/had an affiliation (financial or otherwise) with a commercial organization:
J & J
Alcon
B & L
Allergan
Dompe
Sessions in which Karolinne Rocha MD, PhD participates
1:00 PM - 2:30 PM | 1 hour 30 minutes

Access the Live Meeting: https://www.yourconference.live/COSLearning...
3:15 PM - 4:45 PM | 1 hour 30 minutes

Learning ObjectivesAt the end of this session, participants will be able to: Di...
5:30 PM - 7:00 PM | 1 hour 30 minutes

SOLD OUTCataract surgery has become an increasingly safe and effective procedure for patients with an excellent risk...

STC | CTC
5:30 PM - 7:00 PM | 1 hour 30 minutes

Access the Live Meeting: https://www.yourconference.live/COS