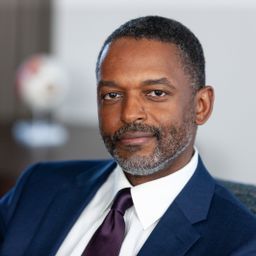 Leon W. Herndon, Jr., MD, is Professor of Ophthalmology at Duke University Medical Center in Durham, North Carolina. He earned his MD from the University of North Carolina at Chapel Hill School of Medicine, and served his internship and residency at the University of North Carolina Hospital in Chapel Hill. Dr. Herndon then completed a clinical fellowship in glaucoma at Duke University Medical Center in Durham, North Carolina.
Dr. Herndon is a member of the American Academy of Ophthalmology (AAO) and was a member of the first class of the Leadership Development Program. He has authored over 100 papers, lectured nationally and internationally, and participated in several research projects related to glaucoma. He currently serves as Chief of the Glaucoma Division at the Duke University Eye Center where he has trained 74 clinical fellows. Dr. Herndon has been recognized for his service in the community by receiving the Senior Achievement Award from the AAO and the Dedicated Humanitarian Service Award presented by Dr. Leonel Fernandez Reyna, President of the Dominican Republic, on the occasion of the 2nd Ophthalmology Mission in the Dominican Republic. Dr. Herndon is the recipient of the Distinguished Medical Alumnus Award from the UNC School of Medicine, and was the Surgery Day Lecturer at the American Glaucoma Society Annual Meeting in 2019. He is founder of the North Carolina Glaucoma Club, and the chair of the Glaucoma Clinical Committee of the American Society of Cataract and Refractive Surgeons as well as secretary of the American Glaucoma Society.
Dr. Herndon's research interests include studying novel treatment approaches in the diagnosis and management of glaucoma. He has ongoing research projects evaluating the high prevalence of primary open angle glaucoma in Ghana, West Africa, where he travels yearly.
Financial disclosure: Dr. Herndon has/had an affiliation (financial or otherwise) with a commercial organization:
Allergan
New World Medical
Glaukos
Ocular Therapeutix
Sight Sciences
Santen
Equinox
Sessions in which Leon Herndon MD participates